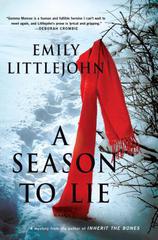 I read many, many, mysteries, in the neighborhood of two a week, enjoying many of them and loving fewer. When I pick up a novel like this one by Emily Littlejohn, I am forcibly and joyfully reminded of the reasons I love this genre so much. This is simply a wonderful mystery, and even better, it reminded me of another series by another favorite writer of mine, Julia Spencer-Fleming.
Littlejohn's novel is set in a little Colorado town—one that's on the "B" ski resort list (unlike the "A" list Vail or Aspen), and happy with that status. The setting, as in Spencer-Fleming's novels set in upstate New York, is practically a character, as Detective Gemma Monroe drives along the treacherous mountain roads, hemmed in by trees and snow.
Gemma is just back from maternity leave when she and her partner (she's on the graveyard shift) get called out to the local private school on a suspicious prowler call. The Valley Academy, remote and gated, requires the two cops to split up in a raging blizzard and look for anything out of place on the quiet campus. They find something: a dead man, stabbed in the gut, out in a blizzard with no coat. He turns out to be a famous author who has been teaching a few classes at the academy incognito.
Preserving the crime scene as much as possible in a blizzard, the two find a note stuffed in the dead man's mouth: "This is only the beginning." They think they may be looking for a serial killer. As they begin to unravel the man's life, they get drawn into the culture of the school where other things seem to be happening, one of them a form of bullying so cruel and so sneaky that the kids affected are completely traumatized by it.
The underlying theme seems to be fairy tales—the bully at the school is known as "Grimm" and the cottage where the dead man's best friend lives seems like a witch's stone house at the edge of the forest. Gemma even encounters a local construction guy, who may have mob ties, quoting Yeats' poem The Stolen Child to her while she's at lunch:
Come away, O human child!
To the waters and the wild
With a faery, hand in hand,
For the world's more full of weeping than you can understand 
While this all sounds creepily fey, Littlejohn has grounded her clever mystery in the details of ordinary life. While Gemma is delighted to be back at work, she still misses and loves her baby, and her boss has set aside a room for her to pump breast milk. I can't imagine another genre of writing where such a telling detail of a woman's life would be included, and that's just another reason I love mystery novels. They tend to illuminate woman's lives incredibly well.
Along with fairy tales, Gemma is herself struggling with what it means to be a grown up, embracing what's beautiful in life along with the other parts of life that aren't so lovely: distrust, fear, aging relatives, murder. It gives the book a real heft.
With the rich array of believable and interesting, fleshed out characters, a memorable setting, a clever mystery, and an underlying theme that adds a creepy intensity to the whole novel, this book and this new series is a real stand out.