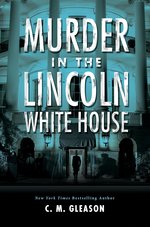 C.M. Gleason is well known as Colleen Gleason, the writer of the Gardella Vampire Chronicles, as well as some romance and some mystery themed novels featuring vampires. As C.M. Gleason she's veering into straight up mystery territory, but her long experience as an ink-stained wretch (my term for a professional writer who works all the time) has commented her skills in terms of narrative and character development. While she's new to the mystery genre, she's not new to writing, and it certainly shows in this assured first mystery.
She's also not new to writing historicals as some of her other books have been set during the regency and Victorian periods (among others) so her way of setting the stage is also assured. This novel opens at the inaugural ball of Abraham Lincoln, and Gleason is able to get across the feeling of crowded Washington at the time, full of both southerners and Unionists. The uncertain tenor of the time is illustrated by Lincoln's having to sneak into town for his inaugural to avoid an assignation plot, and the assassination threats from the start meant he had a Pinkerton agent with him at all times.
While Lincoln is a character in the novel, the main character is Adam Quinn, the nephew of Lincoln's great friend Joshua Speed, and a boy whom Lincoln has known since babyhood. Because of that comfort level, it's Adam Lincoln turns to when there's a murder during the inaugural ball. While Gleason may be new to mysteries she's certainly adept at setting up a classic situation where all of Adam's deductive reasoning skills come to the fore as he investigates the crime.
This is certainly a set up for a series as Adam is quickly surrounded with an able cohort – a black Doctor who steps up and does an autopsy; a penniless Irish boy Adam takes under his wing, and who comes in useful as a messenger; and a reporter discovered at the crime scene. The reporter later turns out to be a woman in disguise, and to add to her interest, she lives at the Smithsonian with her uncle, the first Smithsonian "secretary."
Adam himself has lost an arm in an altercation with pro-slavers back home on the plains, so it's clear where his sympathies lie. (They are somewhat sorely tested by an attractive Southern belle he meets at the inaugural ball.) One of his most interesting characteristics, though, is his skill as a tracker, learned from a Native American back home. He translates these tracking skills to investigating murder, with great result as he employs his observation of footprints, dirt smudges, and information gleaned from the autopsy of the dead man, a well known Abolitionist. I thought that was a great hook and a believable one. I hope Gleason makes even more use of it in future novels.
This is a well told story, engaging in its setting and characters, and a fun read. I also loved this detail, unknown to me: our great president Lincoln was also the one who began calling the president's mansion "the White House." I look forward to more of Adam's adventures in the lively and unsettled world of 1861 Washington, D.C.