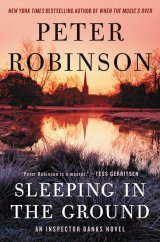 It's been awhile since I checked in with Inspector Banks, but he's still the mellow, food, wine and music loving guy he's always been, if a bit more consumed by melancholy and examining the past. As the book opens he's just attended the funeral of a long-ago girlfriend, and he's called in when a sniper shoots up a wedding party, killing the bridal couple and several others. The shooting is realistic enough and ripped from the headlines enough to be disturbing, though the British cops in this book mention that shootings of this type are practically an American epidemic.
While this isn't a book about gun laws or gun control (that would be an earlier novel, Bad Boy), reading between the lines doesn't take much. The shooting is horrific enough and speaks for itself.
The crime itself is spectacular, and early on, Banks and crew appear to find their man, an apparent suicide. To Banks, though, something seems like it's not quite right and he's sure the man had at the very least an accomplice. As he goes delving into the past lives of the wedding party looking for clues, he's also looking at his own past life and meeting a new possible love interest, Jenny Fuller, back from the past. Longtime readers of this series will certainly remember this attractive profiler who left early on. Her return (for me) is a welcome one, and it seems it is for Banks as well.
These novels are the very definition of British Police procedural, and if that's your taste (it happens to be mine) there really can never be enough Inspector Banks novels to suit me. The police work winds its way to a conclusion with a pleasantly surprising windup. While the story is pleasantly surprising, the aftermath for the characters in the drama is not, and Robinson leaves you thinking, as he does in all his novels, about the aftermath of crime. As I feel aftermath is the main topic of the modern detective novel, these books couldn't be more on point. This is a series and a detective not to be missed.