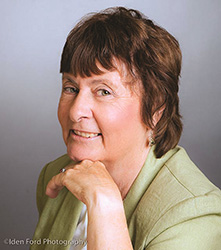 Maureen Jennings is very well known as the creator of Inspector Murdoch, with the popular television series spreading Murdoch and Victorian Toronto far and wide. But of course, before the Murdoch television show, there were the books, which are remarkable. Jennings is great at creating a setting and an atmosphere – Victorian Toronto is brought to life in her words as well as in any television depiction. Her depth of characterization, her lovely prose, and her attention to what was happening in the world at the time she's writing about all make this series a standout. She returns Murdoch to the printed page after a ten year hiatus with Let Darkness Bury the Dead.
Q: You've been away from Murdoch for 10 years.  Why have you come back to him?
A: I think he started nagging me—they have a way of doing that, these characters. Just seemed like a good time to pick up on that world.
Q: At this point, how much research is needed as you write about turn of the century Toronto?  Do you kind of have a reference library in your head?
A: This new book is set in 1917 and I had to do the usual… newspapers, street directories, primary source material. I love that aspect of writing.
Q: All the Murdoch books (and all your books, really) have a hook that's related to a social issue – abortion, child pornography, slavery, the poor and mentally ill, to name a few.  I was part of a discussion recently where someone pointed out that there used to be "social novels," by Upton Sinclair, for example, or going further back, Elizabeth Gaskell and even Dickens – do you think mysteries are the new version of the social novel?  And if yes, is that important to you?
A: VERY important. I loved the (Per) Wahlöö books and I know they set out to deal with Swedish social issues in the mystery genre. In this book, I wanted to write about WWI hopefully in a fresh way. How did people at home cope? What were they thinking? What were some of the worst things about the war that might not be so well known.
Q: What's your "way in" as you start to write an historical novel?  How do you re-create a past world so convincingly?  Your novels all make it seem to real – you can practically smell what Murdoch is smelling.
A: I start reading primary sources and cast a wide net, noting down any particular things that grab me. For instance, I have a book published by the Canadian Bank of Commerce which is a record of letters from their employees who were overseas. (They paid the wages of the young men who signed up.) I have replicas of tracts handed to the young officers about how to lead their troops. Utterly fascinating. I still walk the streets to get a feeling of the time even though much has gone, I can still commune with those folks.
Q: You've put poor Murdoch through a lot – he fled an abusive parent, when we meet him he's grieving his fiancée, and in this new book, he's lost his wife and daughter and is attempting to make up with his son, who was gassed in WWI.  I guess what I'm asking is, did you have an arc in mind for Murdoch as you were writing, or did it develop?  Did you mean to make him suffer so?  He's such a nice guy!
A: I think it developed. Unfortunately, it's a little inconvenient to deal with a wife, not to mention children and a dog, i.e. when does he go home? So he's back to being single again. As for suffering I think I must have a melancholic streak that I've passed onto him. Hopefully it makes Murdoch seem more vulnerable than a tough guy although I think for decades now, writers have moved away from that model…if it even existed.
Q: In this new book there's obviously been a time lapse between the last one (Journeyman to Grief) and this one, and you've brought Murdoch up to WWI.  What made you want to write about WWI?  You could have kept him back in 1910 or so in that little golden bubble before the war.
A: I've been fascinated with WWI forever. As I said above I wanted to try to show something about it that was fresh, perhaps not as well known i.e. the presence of dogs and cats on the front line; the use of sports and competitions to keep the soldiers entertained even within earshot of the guns.
Q: Many of your recent books are set during wars – the Tom Tyler series, which I love, are British home front WWII novels – is writing a book set during wartime more or less challenging?  Does it someone ramp up interest and tension more than a peacetime story might?
A: For a long time I resisted both reading and writing books set during wartime… homicide seemed so incidental to the massacres happening daily on the front. Now with more time elapsed I think I (we) can set books during that time. The war hovers there but there are still crimes to deal with, some of them serious.
Q: Now that you have had such a long writing career, what are you hoping to still attempt with your mysteries?  What writing frontiers are you still hoping to explore?
A: I am excited by beginning work on a new book set in 1936. I want to capture Murdoch's world. Same city, some of the same people show up. As I delve more into that period I'm finding it so fascinating. Such a dark dark time actually. Talk about social issues to bring in—depression time, injustice… Hitler just starting his rise to power. Also my protagonist is a female P.I. and I can use the first person narrative, which is loads of fun.
Q: Can you name a book that was transformational for you – one that set you on the path to being a reader and/or a writer?
A: So many. I can hardly remember when I first started to read. They all affected me. Black Beauty. Little Women, all of the Sherlock Holmes stories. Dickens. I wanted to be a citizen of that magic world.
Q: Finally, what's next for you?
A: The Tom Tyler books have been optioned for TV and I would love to see that happen. I have strong opinions about how I'd like to see it. The new book I mentioned in question 8 is most exciting. It's called The Paradise Cafe. I suppose I'm always excited to start a new book but I seem to be particularly loving this one. I get to be a bit funnier than usual.
Thank you, Maureen!