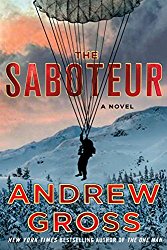 While not as emotionally engrossing a novel as last year's The One Man, and not even really a crime novel, this story really can't be beat. As most of it is true, unbelievably enough, what Gross has done is to tell the story of some incredible WWII heroes while giving it an emotional center in his main character, Kurt Nordstrum, apparently based on the actual historical figure of Kurt Haukelid. Gross adds some romantic and personal elements to give depth to the character, and the story turns on his actions, but this story is so rocket powered it's hard to stop reading, and just as hard to believe it's true.
Set in 1943 Norway, a country occupied by the Nazis and helped by Norwegians known as Quislings (still a term for a traitor), all Kurt has to do to prove his bona fides to the like minded is to say he's fighting for the King. When he's asked to get a certain microfilm to the proper channels in the UK, he figures the only way to do it is to actually go to the UK (a near impossibility in wartime), so he and his friends hijack a Swedish freighter and force it across the ocean. That is unbelievable yet true incident #1 (look up the Galtesund). This spawns the central portion of the book, as the evidence smuggled across proves the Germans have an almost impregnable facility in Norway producing enough heavy water to make an atomic bomb.
Kurt and a team train for months to be airdropped into the Norwegian countryside, tasked with destroying the heavy water tanks. This mission, and their training, described in detail, form the central portion of the book. Gross has fictionalized it but again, this is an incredible slice of history, and if you aren't rooting for this little band of brothers and maybe wiping a tear from your eye, there's something the matter. Read the afterword as there are even certain small details that are true.
The last section concerns the bombing of a ferry carrying the store of heavy water to Germany. If you aren't familiar with the history – I wasn't – I won't ruin it for you. Settle in and be amazed. Gross is also excellent in portraying the heartbreaking costs of war as well as the sheer heroism of the far from ordinary patriots fighting it. Seems like a lesson to savor for us all.