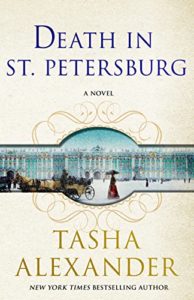 I love Tasha Alexander – her books are all so delicious in every way, but this one may be my absolute favorite. Lady Emily accompanies her husband (who is on an espionage mission) to Russia, where she is just supposed to be enjoying herself and having a little vacation. Ha! The book opens with a dead ballerina in the snow. Lady Emily is present at the discovery of the body, and of course, she's drawn into the investigation.
I'll say up front I'm a freak for Nicholas and Alexandra, ballet, Swan Lake and Faberge eggs – all converge in chapter one and I couldn't have been more happily sucked in to this story. It follows the rise of the dead dancer, Nemesteva, and her best friend, Katenka, as they begin ballet school at the Imperial Theatre school as young girls.
For Nemesteva everything comes more easily; for shy Katenka – a technical expert who has a hard time expressing her emotion on the stage – not so much, but the two girls are the stars of their group. Threaded into the story (at a far remove) are real life figures like Carl Faberge and choreographers Petipa and Ceccheti. They make the whole more believable in a way they would not have if they had been up front, involved in the plot, characters.
Emily is asked to look into the dancer's death by a clearly grieving Prince who was obviously having an affair with Nemesteva and wants her killer avenged. Emily agrees somewhat reluctantly – she has few Russian contacts – but in her typical fashion she tracks down Nemesteva's friends and colleagues and begins to piece her life together.
The two strands of the story draw slowly together – the story of the ballerinas begins slightly in the past (the main story is happening in 1900) and as they converge and the strands of the mystery become clearer, the suspense amps up as well.
Complicating matters is a "ghost ballerina" who appears in different locations and then instantly disappears, causing everyone in St. Petersburg to assume that it's Nemesteva's ghost, seeking revenge. I mean, swoon! A ghost ballerina! I could not have loved this book more and was so sorry when I finished it. Lady Emily of course saves the day in her inimitable way, and I am already eagerly anticipating her next adventure.