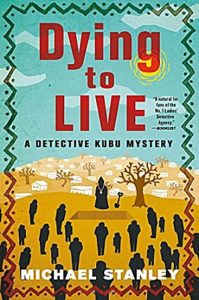 This wonderful series only continues to get better. Weirdly, I also think it may be one of the more realistic police procedural series around, as the careful, detail oriented work carried out by Detective Kubu and his fellow officers seems like what painstaking police work may actually resemble. Detective Kubu is also immensely appealing – his happy family life, his love of food and wine, and his leaps of deduction that come while napping (very Nero Wolfe of him) make him one of my favorite characters in mystery fiction at the moment.
Set in Bostwana, Kubu's work often involves customs that to Western eyes may seem very strange and the connections between traditional western perception and the African culture is one beautifully bridged by Stan Trollip and Michael Sears, who write together as Michael Stanley. The book opens with the death of a bushman, who, when autopsied, appears to have the organs of a much younger man. The man himself appears from the outside to be quite elderly. He even has white hair, which is apparently unusual for bushmen.
The death of the bushman and the subsequent disappearance of his corpse leads Kubu on a complex investigation that involves the search for plants in the Kalahari that promise a longer life. The trade that goes on for muti, as the potions prescribed by African witch doctors are called, seems to involve secrecy, conspiracy and a good amount of danger. The malls described in the book have storefronts operated by the witch doctors, who have higher up clients that use their services discretely.
While Kubu is himself skeptical, his own wife pleads with him at one point to obtain muti for their adopted daughter who is HIV positive and suffering from possible AIDS symptoms as the story progresses. At one point, Kubu thinks to himself: "Was Mabuku suggesting there might be something in the black magic of these abominable witch doctors? But then he realized Mabuku was thinking about belief. No one knew what people carry in their heads from childhood." This thought is a guide and compass for Kubu as he negotiates this case which has far reaching tendrils. As always this is a thoughtful, entertaining read that had me thinking long after I finished the book.