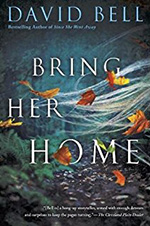 In suspense fiction the setup is crucial, and, as one of its finest practitioners, David Bell knows how to start his tale with a bang big enough to energize the compelling universe that follows. His latest superior work, Bring Her Home, begins with a man rushing into a hospital trying to find his daughter, frantic but at the same time desperately trying to keep himself together in midst of the bureaucratic chaos. While many other suspense writers feature impossibly virtuous supermen or bland mannequins whose features are obscured by a blinding fog of plot, Bell brings a regular but not quotidian protagonist to his tale, a guy thrust into the middle of life and death events way over his head, but who is determined to find justice for those closest to him in the best way he can.
He felt control slipping away as the angry part of him asserted itself, almost like another man who lived inside of him and jumped out in situations like this.
Bell's central character, Bill Price, had been having a rough time of it even before he hit the hospital. A year and a half ago his wife died in a seemingly random accident, and since then his fifteen-year-old daughter has retreated into the unknown, close-mouthed world of adolescence. When she and best friend Haley disappear and then are found in a city park, one badly beaten and the other dead, he is almost completely consumed by his effort to unravel what happened.
But like so much of modern life, the real question is one of identity, spiraling into smaller and smaller circles—how well do you know your neighbors, your loved ones and ultimately yourself? Are you really aware of who they are, what they do when you're not with them, what they will they do in the future, and, more, importantly, how you will react when they defy your expectations?
It's Bell's sensitivity to character and exploration of the most profound themes of family and personality that give his masterfully intricate plot its heft. It takes real skill to craft the kind of twists and jaw-dropping yet credible turns and reversals that he pulls off, but to make the people propelled through the maelstrom living creations rather than game pieces designed to trick the reader demonstrates a truly rare talent.
Non-series suspense novels are very popular right now, and their advantages are many in that they feature characters that, like most readers, are not at home in the crime-ridden universe they suddenly encounter. Because no character has to survive the book, any one of them can be killed, or indeed, be the killer. It's not as easy to trick crime fiction aficionados, however, and many of the most popular practitioners resort to highly improbable coincidences, implausible psychology, or even that most overused of devices, the unreliable narrator. But there's no cheating in David Bell and that's what makes Bring Her Home and all his other books such satisfyingly compulsive reads. (Jamie)