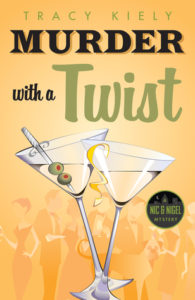 Murder with a Twist; Killer Cocktail; and A Perfect Manhattan Murder.
Guest reviewer Angel Connors is a teacher in Grass Lake, a book club member, Nancy Drew lover, and avid mystery reader and lover of old movies.
"Only lanky redheads with wicked jaws," quips Nigel Martini to his bemused wife, Nic. If one wants a delightful summer read and has a fondness for old movies, look no further than Tracy Kiely's charming homage to The Thin Man. To be honest, Kiely's books owe more to the screenplays of the classic movie series than Dashiell Hammett's iconic crime novel that introduces us to Nick and Nora Charles. Instead of a beautiful heiress meeting and falling for a sexy and wisecracking private eye, Kiely presents an attractive NYPD detective at physical rehab falling for a charming albeit quirky wealthy playboy.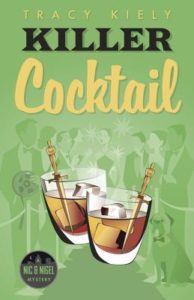 The reader must be willing to accept the central conceit that the newly retired and married detective and her (works when he feels like it) husband have unlimited funds, lead a ridiculously glamorous life complete with constant travel, endless cocktails and trip over regular obligatory corpses. There is a lot to swallow here because Nic rarely encounters serious resistance from professional police departments when she presumes to interfere with their investigations. In addition, husband Nigel breezes in and out of crime scenes and five-star hotels dragging their adopted enormous bullmastiff, Skippy (an obvious nod to Nick and Nora's ever present terrier, Asta) with him even onto the Red Carpet when solving a Hollywood murder.
The first book, Murder with a Twist, centers around Nigel Martini's wealthy eccentric family in New York and borrows liberally from the film plot of After the Thin Man (1936). The second book, Killer Cocktail, takes place in Hollywood and Kiely effortlessly blends the fictional characters with well-known contemporary Tinseltown elite. The third entry, A Perfect Manhattan Murder, takes Nic and Nigel back to New York into the world of Broadway. The murder plot of this book is probably the strongest of the three, but all three are enjoyable. These mysteries are not horrifically violent thrillers or intense character studies; instead, they are unapologetic escapes that allow us to spend time with sophisticated Nic and Nigel, and lest we forget, Skippy.