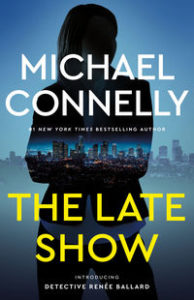 Michael Connelly has seamlessly launched a new character and series, introducing Detective Renee Ballard. Ballard works "The Late Show," or the overnight shift, and she's in a bit of purgatory as she's accused her former boss of sexual harassment. When the charges went nowhere (her old partner didn't back her up), she was booted to the Late Show, where she catches cases but isn't able to follow them through to a conclusion. She instead turns them over to the pertinent department – homicide, robbery, etc. She's feeling the lack of follow-through – she's not as engaged in her job and her partner, who works the late shift to get home and care for a wife with cancer, doesn't have the same focus she does.
Connelly sets up the character with several unique details – Ballard, a surfer girl, basically lives in her car with her dog and her surfboards, though she calls her Grandmother's house (a good two hours away), home. This establishes her as the classic outsider/loner that Connelly so prizes in all of his characters – Harry Bosch and Mickey Haller are both rogue outsiders. The police jargon and detail is also familiar to any reader of the Bosch books, but it's like Connelly has given himself a re-boot with a new character.
The plot centers on a nightclub shooting with the investigation being run by Ballard's old boss. Ballard follows up on the death of a waitress who was "collateral damage" and it snags her attention. Her follow through and attention to detail draw her into the case despite the fact that she's just supposed to turn over anything she finds to the day crew. When Ballard's former partner is killed, it becomes truly impossible for her to keep away. She's also following up on the brutal beating of a transvestite hooker which leads her into a very bad situation.
It was at that turn of the plot that I almost gave up on this book. A male writer writing a female character whose career is defined by sexual harassment who then puts this character into a classic type of fem-jep situation has to tread pretty carefully. Thankfully, he does, and quickly moves past this particular plot turn. When I thought about it I thought it made sense for the plot, but I still felt it was unnecessary. However, Connelly's plotting skills and incredible skill with characters had me quickly flipping pages until the end of the novel – as I do with every Connelly novel. This is a great addition to his body of work.