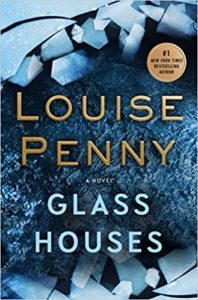 Forget retirement. Gamache is now head of the ENTIRE Surete. After the events of the last novel, Gamache has taken on corruption on a larger scale – he's literally moved on from the academy to the world at large. Penny, as always, skillfully layers her story. In this outing, she jumps between Gamache's testimony at a trial, a murder in Three Pines, and the Surete's – and Gamache's – fear of the drug crisis, specifically the opioid epidemic and how best to fight it. While Julia Keller's new book (Fast Falls the Night) also focuses on the opioid epidemic, she goes for the personal; Penny goes for the epic. Keller's view is far more pessimistic than Penny's ultimately optimistic one.
The murder in Three Pines comes after an especially creepy set-up. I think in an alternate universe, Penny might be a writer of gothic ghost stories, as many of her books have that kind of spooky element. In this one, there's a figure in a black hood and a mask, standing unmoving on the green in Three Pines. He's very unsettling, refuses to answer questions, and eventually there's a kind of cone of silence surrounding him – kids no longer play there, there's no activity of any kind. There's just a kind of dreadful silence. As in the best ghost stories, you're more creeped out by what's in your own imagination than by what's on the page, though that's creepy enough.
It turns out the figure is an early incarnation of what in Spain is known as a Cobrador del Frac, a figure who dresses in top hat and tails and follows someone around who owes a debt. They usually pay up, as public shaming is a very powerful tool. The earlier incarnation was simply a "conscience" – they were out for a karmic debt to be paid, so to speak. So of course in Three Pines, everyone is wondering just whose karmic debt needs attention. The question, of course, is answered by a murder, but that's all I can say without giving away points of this clever plot.
Penny is very concerned in this novel with conscience – there's even a chapter (chapter 8, as another avid reader pointed out), detailing conscience and how past deeds affect various Three Pines residents. Conscience, and ultimately, justice – whether inside or outside of law – becomes the overriding theme of the book. I think this is a theme that has concerned mystery writers, with its rogue police officers, amateur sleuths, and knitting old ladies, from time immemorial. Would you work outside the set rule of law to do what adheres to the rules – or do what is just? I think we mystery readers know the answer, and mystery writers have been helping us figure it out with their clever, well told stories, from Wilkie Collins on forward.
How great that we as readers also get to enjoy a fabulous story as we ponder right and wrong. To me, that's what makes mysteries the greatest and most enjoyable of all genres. Louise Penny adds her beautiful words and stories to this canon. The end of the novel, as all Louise Penny novels do, had me dissolved in tears, but a Penny novel offers a good cry. You feel cleansed after reading the book. That explains a great deal of her popularity, I think, but so do Gamache and Three Pines itself. Now to wait a whole other year until the next book…