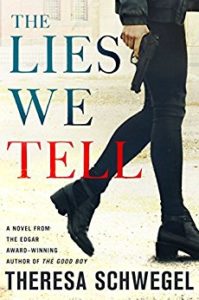 Theresa Schwegel is a brilliant and underappreciated writer (despite an Edgar win for her first novel, Officer Down). She is a difficult writer, though, and refuses to sugarcoat anything. She also writes her novels in first person, present tense, which some people find off-putting. That said, she's one of the more original and vivid writers in mystery fiction. Everything she writes is memorable and worth a look, and this novel, her sixth, is no exception.
Most of her novels concern female police officers, and so does this one, though with the twist that the officer in question, Gina Simonetti, is dealing with the beginnings of MS and hiding it from her employer. Schwegel tackles health care as a central theme and it's deftly woven through her plot, touching on Gina's health, the case Gina becomes invested in, and the thread of easy access to and misuse of prescription drugs.
As an opening salvo, Gina chases down one Johnny Marble, who has apparently beaten his elderly mother when he shows up to visit her in the hospital. During the course of the chase, Gina's MS prevents her from doing anything but falling on top of Marble, who takes her gun and escapes. For this reason, Gina becomes desperate to find him and find a way to neutralize his testimony, so that the "Job" will not discover her debilitating illness.
Gina, along with being a strong, kick-ass woman, is also a stubborn one, who is resisting her new health reality while trying to work full time as well as take care of her brother's 2-year-old, who has now lived with Gina long enough to call her "mama." The complex plot weaves together a heartbreaking story of the elderly woman in the hospital, Gina's struggles managing her single mom status along with her hopes of retaining custody, and her attempt to lead an investigation under the radar as her search for Johnny Marble intensifies.
She has some under the radar helpers, and stubbornly resists that help, but in the end, she's forced to take it. As the novel is told from Gina's point of view, the picture of Gina that an outsider might glean is only absorbed slowly. When a story is being related in the first person, the reader sometimes second guesses behaviors and actions the character takes, and has to form their own opinion of that character. That's the difficult part of Schwegel's writing, and it's also the brilliant part as the reader is forced to assume an almost active role in the story she's telling.
The references and social concerns are up to the minute, and health care, while not a sexy topic, is certainly an important one. The casual use of pills and applications of prescription drugs is troubling, but realistic. Fortunately for the lucky reader, these concerns are wrapped in the package of a hard to put down thriller. I can't recommend checking out this author more highly.