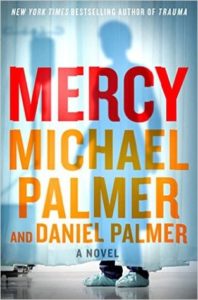 Every now and then I have a teeny tiny "free reading" window—when I'm not reading books for Mystery Scene or for the store newsletter or by authors who are nice enough to come and visit us—so when I unpacked a recent shipment and found a new Michael Palmer paperback during this last such free reading moment, I practically squealed with delight. I love these books and have found that since Palmer's death, and the pick-up of the series by his son, Daniel, there has been no let-up in quality or change in style or storytelling. Unlike his Dad, Daniel himself is not a doctor, but the medical details seem absolutely real.
In this outing, Dr. Julie Devereaux, an advocate for death with dignity, is reveling in her life as a cordially divorced mother of a tween boy looking forward to her upcoming marriage to Sam, who has introduced her to the pleasures of motorcycle riding. An ER doc, she finds the motorcycle riding relaxing. However, as any soap opera viewer or reader of mysteries knows, whenever a character feels they have "everything they ever wanted," that's when the trouble starts.
And you've probably guessed the trouble—Julie's out riding with her beloved Sam when they get into an accident and Sam is horribly injured, though not killed. Not only is her world shattered, but her views on death with dignity are put to the acid test. Julie's personal agony and several cases she's involved with, also involving critically ill or injured patients, illustrate the dilemma of the book. To spice things up, many of these patients seem to be dying of the same rare heart condition: all of them were almost literally frightened to death.
As in every Palmer novel there's some big bad happenings inside the upper echelons of the hospital that also play into the story, a typically rousing Palmer thriller that involves intrigue, suspense, a creeping killer, a hero or two and a not unexpected though well earned conclusion. These books are to be read for the joy of pure storytelling. I hope this father and son collaboration continues for many years to come.