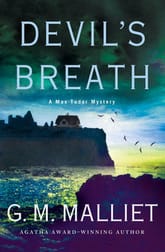 I can't say how delighted I am that G.M. Malliet is continuing to write her Max Tudor mysteries. With actual British writers turning to the really dark and really scary, it's American Malliet who has assumed the Golden Age mantel with this series. It's pure joy to read one of these novels, start to finish.  The structure and format won't be a surprise to any devotee of Agatha Christie or Dorothy L. Sayers, but the way the characters are turned into fully human beings makes them utterly contemporary.
In this outing, Max, along with being the vicar of Nether Monkslip, devoted husband to Awena and doting father to the fabulous Owen, has returned to his roots with the MI5 and has taken on an actual assignment. He receives the news that he's replacing, and will be working with, a former paramour with some trepidation but that is instantly resolved when said former paramour turns out to be about nine months pregnant.
The case involves drug smuggling, and it's suspected the smuggling could most easily take place on board a luxury yacht. On just such a yacht is a party of Hollywood types and upper crust hangers on, out on a pleasure trip, when one of them (a famous movie star now getting a bit long in the tooth) turns up dead. The two cases merge and Max takes on the job of not only looking into the drug smuggling, but into trying to discover more about the dead woman, Margot Trent, in hopes that will lead him and the police to her killer.
At his side, as usual, is the Shakespeare quoting DCI Cotton, but the book belongs to Max and the Hollywood contingent as, true Golden Age style, he interviews each possible suspect in turn. The book even comes with a guide to the cast of characters at the beginning, a la Agatha Christie. Mallet's delicious turn of phrase as she indelibly portrays each character are one of the true joys of reading any of her books—she swiftly exposes each, warts and all, and then unexpectedly brings you on the side of the victim who throughout has been portrayed as selfish and vain but who somehow remains sort of likable.
That, to me, was the biggest turn of the plot, though the solution was suitably tricky with a dash of Golden Age coincidence thrown in for good measure. These books are satisfying in every particular, and it was a read I enjoyed more than I can say. I hope Max Tudor will not take as long to return as he did this time around.