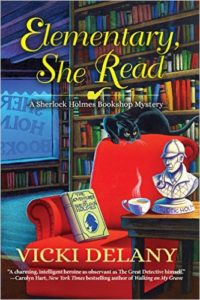 This is a charming book, and Vicki Delany is a total pro at telling a story. Brisk, entertaining, and memorable – the whole package. As far as cozies go, she's top of the line. The set-up is great. Main character Gemma Doyle lives on Cape Cod and owns a Sherlock Holmes themed bookshop and teashop along with her uncle, who is the real Holmes buff but more of a silent partner as he's off on collecting trips. I've read books about bookstores before that I found pretty unrealistic, but Cape Cod is a tourist area and because Gemma's shop sells more than books, I could believe that she was briskly selling lots of decks of Sherlock playing cards, figurines and other tchotchkes.
As the book opens, the shop is busy with a bridge group on a tour, who swarm the tearoom and the shop. Gemma notices a woman who doesn't seem to belong come in and then loses sight of her as she waits on customers. The woman disappears but when the crowd clears, Gemma finds a bag with an apparently almost priceless copy of a 19th century magazine with an original Sherlock story in it. She locks it in her safe and from there her troubles begin.
Gemma, who has the deductive reasoning powers of our hero, figures out where the mystery woman must be and tracks her to a local motel, but when she finds her, the woman is dead. Gemma becomes prime suspect #1 and the main investigator is a former boyfriend. Things go from bad to worse as Gemma's house is trashed, the police continue to show up at her home and business for questioning, and she feels she's being followed. When her ex is taken off the case and the officer in charge clearly thinks Gemma is the guilty party, Gemma takes things into her own hands.
She repeatedly says to herself that the police have greater resources than she does but she can't help herself and finds her way nimbly through a thicket of clues. The story, the surrounding characters, and the Cape Cod setting all make this a more than delightful read. It feels like a set up to a nice long-lived series, and I hope it is.