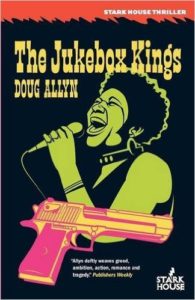 Doug Allyn has long been known as one of the masters of the modern mystery short story—it's probably harder to find an issue of Ellery Queen's Mystery Magazine that doesn't have an Allyn story in it than to find one that does, and it's a rare year that he's not nominated for an Edgar award. But he's also a fine novelist as well, my personal favorite being the the Mitch Mitchell series, which feature a female Michigan based deepwater diver.
The latest exhibit of his mastery in the longer form is called The Jukebox Kings. It's not so much a mystery as a crime novel, a story of the rise of a gangster in the Little Caesar tradition. Mick Shannon is a boxer, fresh out of prison, who, after losing a tough fight, finds himself deeply in debt to the mob, in the person of Moishe Abrams, an extremely dangerous relic of the Purple Gang era, who still controls jukeboxes and collections in the black parts of Detroit. Things get rough quickly, and soon Mick finds himself taking the place of Moishe in an extremely fraught environment.
At first the book is reminiscent of early Elmore Leonard (not the worst thing to be reminiscent of!) in its portrayal of a tough, canny protagonist dealing with the changing Detroit of the early sixties. Allyn puts his own stamp on it by introducing another element of his expertise, music.
Mick seizes a tiny music studio from a deadbeat then dead client, and proceeds to learn the ins and outs of the exploding Motown scene with the help of Martika, a savvy and attractive soul sister who happens to harbor a performing talent herself. The synergy between the studio, the jukeboxes that play the products of the studio and a soon acquired nightclub creates a new and successful operation, but also one that attracts the attention of the new look but just as brutal Mafia whose "takeover and acquisition" strategy Mick and his new associates must resist.
There's plenty of action, atmosphere and snappy dialogue in The Jukebox Kings, as well as an insightful look at the music business and a changing Detroit. The long sweep of the story, which reaches from the Supremes to rap, must have been liberating for an author used to a more restricted form. Although Mick is a violent man who turns to violent means when necessary, he's a sympathetic character and his story is a winning one.