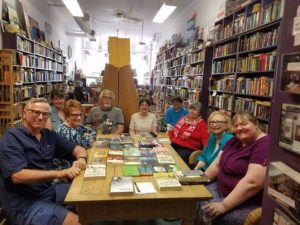 Our book club has been meeting for 23 years now, with inevitable changes in membership through the years. We have some members who have been with us from the beginning, and we always love meeting new people. Through the years our discussions have gotten more focused, though the discussions are always very passionate, one way or another! All of us, I think, have read books we otherwise wouldn't have and through discussion have come to enjoy books we may have initially disliked. I asked our members about their participation in the book club and what stands out to them. For my part, I've enjoyed discussing the books I love with this wonderful group for over 20 years.
Tori Booker: (I'm a) director of a small non-profit that provides legal services to immigrants in need.
I'm proud to say that I'm an original book club member! In the summer of 1993 (I think), I was taking a knitting class at the Fiber Gallery right next door to Aunt Agatha's. I noticed a postcard announcing a new book club, went next door to buy Pennies on a Dead Woman's Eyes by Marcia Muller and became an official member of the club. In that first year, we also read Colin Dexter and Robert Crais – authors completely unknown to me. And that's what I've appreciated the most about book club – the exposure to hundreds (after 23 years, "hundreds" is accurate) of authors and stories I never would have considered on my own. If I limit myself to the last decade or so (23 years is a long time to remember all of the books I've liked or disliked), some standouts are: Elly Griffiths, Lisa Lutz, P.J. Parrish, Child 44 (Tom Rob Smith) and The Keeper of Lost Causes (Jussi Adler-Olsen).
Apart from reading unfamiliar authors, I love that book club offers a comfortable opportunity to connect with other avid readers with whom you can be completely honest. I still remember Maria, one of my favorite original book club members with whom I shared similar reading tastes. The current group has been meeting and discussing for several years now. We talk about new jobs, new babies, weddings and travel, and when I have a strong opinion about a particular book, (The Darkest Secret, Alex Marwood), I'm anxious to hear what the others think. Authors often join our discussion, and no matter what we thought about the book, we are always diplomatic and polite. They have brought t-shirts, slideshows, and cookies. Some have smoked while talking and others have been hard to connect with, but they are all grateful for our interest. The most memorable author discussion for me was sharing a meal with Louise Penny and her husband; both so kind, friendly and appreciative to be with us.
Over the years I've recruited mystery-loving friends to join our book club, and several years ago my dad participated in one of our discussions. I hope that in a few years my 11 year old son will too.
Editor's note: Tori mentions author visits – on one occasion we skyped with an author – A.X. Ahmad, author of The Caretaker – and Tori really helped facilitate the discussion and make it a better one.
Vicki Kondelik: I work as a cataloger at the Graduate Library, and I'm writing a novel in my spare time.  I've been in the club at least ten years, even though I haven't been able to go to every meeting.  I still remember the first time I went, the book we discussed was Emperor Norton's Ghost by Dianne Day.  There are many books I enjoyed very much that we discussed in the book club, but one particularly memorable discussion was of In the Woods by Tana French, because opinion was so divided on that book.  I remember that people either loved it or hated it.
Editor's note: Vicki says she has been coming for 10 years, but I think it may be more like 15! Time flies. She is an especially avid fan of historical mysteries and of Louise Penny.
Joyce and Mike Simowski: Mike and I are still newcomers, but we've thoroughly enjoyed the discussions.  We are both reading authors we hadn't tried before, or in my case an author on my 'wannaread' list now becomes a priority so I can discuss it at our meeting!  We look forward to each new book. Thanks for making reading fun!
Roxie & Rob Weaver: Rob: I recently retired from ITC Holdings, Michigan's electric transmission provider, where I was a Senior Systems Analyst. Basically I was a small contributor to a large enterprise tasked with keeping high voltage electric power flowing so that "Michiganders" could read their Aunt Agatha's books after dark and keep ice cream cold in their Frigidaires.
My post-retirement agenda includes as much traveling with Roxie as can be budgeted, seeing as much of the country as possible; also includes a regimen of biking, hiking and walking to commune with nature and stave off decrepitude. Of course, there is much reading to be done, stuffing the remaining brain cells with quality fiction. Fiction is usually sufficient to explain what I observe in human nature. For example, in just the last couple of months, we have seen Orwellian fiction become reality right here in the U.S.A.
Along with Roxie, I have been an Aunt Agatha's customer and enthusiastic attender of  author events since 2006 but I did not immediately join the Aunt Agatha's book club, preferring to hang out at Expresso Royale on Main Street while Roxie went to Aunt Agatha's once a month. After being convinced that you weren't reading cozies or romance novels I began attending the book club in 2013. I'm glad I did.
I think it is important to belong to a book club because I am introduced to the works of authors with whom I am often unfamiliar. The same could be said for attending author events. Aunt Agatha's provides both the book club and author events. Robin and Jamie direct me to the "good stuff", otherwise I gravitate to "mainstream" mystery, crime, espionage… Mainstream is good but expanding my literary exposure universe is priceless.
Roxie: I own a small mobile art business – Geiser-Weaver Crafts where I teach pottery, painting, drawing and jewelry to children. I travel all over Southeastern Michigan doing so. I also design and sew American Girl Doll clothes, my specialty is Super Hero Costumes. I am also a Lularoe Consultant with my daughter Morgaine. I am a retired mental health therapist. I love to travel and find that the flexibility of my multiple self employment gigs allows me to do so. My husband Rob and I have traveled all over the United States having walked in all 50 states and are currently walking all the capitals. We also like to bike and have done some distance biking – biking from Pittsburgh to Cumberland, MD and from Cumberland to Washington, DC. I read primarily mysteries and like to try new authors. I am not a huge cozy fan, but have been known to read a few. I have a knack for figuring out who committed the crime, which can be both fun and frustrating. I read fast, so I read a lot. I started coming to the book club right after we relocated from the west side of Michigan to the east about 10 years ago. My first book club meeting I remember going to supper with Catie & Angel. I have been hooked ever since, I enjoy the banter and the diversity in opinions – it is enjoyable to hear different viewpoints on the same book. Seldom do we all the like book or hate it, so the discussion is lively.
Editor's note: We can all attest to Roxie's gift for guessing the killer.
Tammy Rhoades: I enjoy the book and author recommendations, the new authors I am introduced to, the people I meet who enjoy reading, the discussions about historical novels, the opinions of the group on different books and their reasons for liking them or not – these are very insightful.  I enjoyed meeting Julia Keller and Carrie Smith and hearing of their writing process and all that goes into creating a work of fiction. It is a great way to spend an evening!
Linda Arnsdorf: As you, know, I am a retired person who works.  Currently just a Nurse Practitioner, part time.  I am not sure how long I have been a member of book group but more than 20 years, I think maybe more than 20.  I like hearing other people's thoughts on a book we are all reading.  Most times I like the book more or if I hear that the line is overused and I like the book, I will still like it but would think twice about recommending the book to my friends.  Members have come and gone but a few of us continue.  I am always happy to see old members who come and go as well as when there is a new member.
Editor's note: Like Tori, Linda is an original member – 23 years.