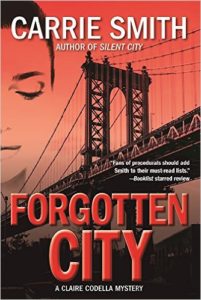 Carrie shared the manuscript of this novel with me – I inhaled it and loved it and then didn't (or forgot to) write my review. I had to come back to it and re-read it thoughtfully. I still love this book and this author. Carrie is part of a long line of beloved authors (for me at least) that include Lillian O'Donnell, Barbara D'Amato, Leslie Glass, Lynn Hightower, and Lee Martin/Anne Wingate, women who wrote about female police officers or detectives who are juggling family and personal issues along with the day to day sexism they encounter on the job. O'Donnell's first novel was published in 1972 and the sexism doesn't seem to have changed much.
While Smith's main character Claire Codella is not juggling marriage and children along with her job, she is juggling a bout with cancer and her subsequent follow up care along with a new relationship with a fellow detective. She's cautious, personally (the reasons for that are explicated in this novel) and not so cautious professionally, making the intuitive leaps that a great detective makes, much to the annoyance of her superior officer.
The story centers on an exclusive Alzheimer's care facility in Manhattan, final home to many of New York's rich and powerful. The book opens with the death of Broadway legend Lucy Merchant, who suffered from early onset Alzheimer's and is found dead in her room one morning at the relatively young age of 56. Merchant's daughter is not satisfied with the "natural causes" explanation, and pushes Codella, who at the moment is without a case, to look into her mother's death. Codella reluctantly does so, getting more and more invested as each new revelation comes out. It quickly appears that Lucy has died of a drug overdose.
Smith's storytelling style is both intimate – we get to know Clare, her fellow detectives, and the characters in the case, thoroughly – and epic, as she includes plot lines about a transgender character, sexual assault, the privileges of power, and the care of older people while taking a look at the class divide between cared for and caregiver. None of this is a polemic, but it's folded neatly into Smith's brisk story, which is ultimately a great example of the police procedural novel.
Smith's prose is frequently lovely, as well, which is an added bonus. Two books into this series, I am already a diehard fan.