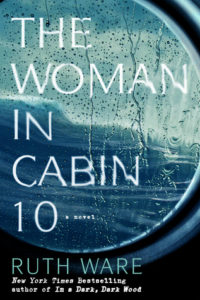 First of all, kudos to Ruth Ware for not calling this "The GIRL in Cabin 10". Thank you, Ms. Ware, for writing a book about adults and referring to them as such. Second of all, I was a huge fan of her first novel, In a Dark, Dark Wood, and this one is even better. No kidding. The skills she brought to her first novel are both refined and sharpened here.
The book opens with travel journalist Lo Blacklock waking up alone in her London apartment to the sounds of a burglar. While she's only slightly injured, she's terrified and feels invaded, and her panic doesn't abate when the locksmith changing her locks mentions that lots of time burglars come back. She ends up sleeping at her boyfriend's apartment – he's away on a work trip – and he wakes her up when he returns only to be rewarded with a punch in the face.
After she and her boyfriend Judah – who seems perfectly nice, and very understanding – have a bit of a tiff, she heads off in a state of exhausted paranoia for what should be the trip of a lifetime. Her boss at her travel magazine, Velocity, is on maternity leave, and Lo has been given the plum assignment of covering the maiden voyage of the Aurora, an ultra-luxurious cruise ship owned by a Norwegian billionaire. At the beginning, it's just her exhaustion making her touchy and paranoid, as she's almost too tired to enjoy her rented evening gown, delicious champagne and incredible food the first night out. The next morning – horrors – she's scheduled for a spa morning with the other "lady" journalists.
As she sinks into bed the first night to sleep the dreamless sleep of the exhausted, she's yanked awake in the middle of the night by a thumping sound from the next door cabin. She knows it's occupied, because she'd borrowed a mascara from the woman staying there before dinner, but when she hurries to her balcony, she hears a splash and sees what she's sure is a smear of blood on the balcony wall next door. She hurriedly calls security.
What follows is almost a bad dream played out in real time, as Lo attempts to convince the security guard that she'd seen a woman in the cabin next door – it's now spotlessly empty, and she really did heard and see what she says she did. There's suggestion of her drinking too much, of being hungover, even the fact that she uses anti-depressants comes to light, all to make Lo into the classic unreliable narrator. This part of the novel is almost difficult to read, it's so tense, frustrating and suspenseful, all at the same time. Fans of her first novel will recognize this – it's fem-jeop on steroids. If Mary Higgins Clark were a few decades younger, this is probably the type of novel she'd be writing at this moment.
But then about halfway through, while this is still a suspense novel, it also becomes a classic detective novel with a twist and clues that Ware has placed for the reader throughout. I loved Ware's sly references to classic detective novels– I spotted Miss Marple, Agatha Raisin, and Karin Fossum, just to name a few.   It's never overboard, just a winking detail, like when Lo is in a particularly unpleasant situation and all she has to read is Sylvia Plath's novel of attempted suicide, The Bell Jar. Yikes.
Ware also expertly layers her story by using e-mails, news clips, and segments that divide her well planned novel into parts. I literally could not stop reading, and unlike other recent novels I couldn't stop reading with "girl" in the title, I actually liked Lo and was rooting for her to figure out what was happening. The sting is in the tail, as they say, and this novel has a bravura twist and a terrific ending that made me smile. This is one of the reads of the year.