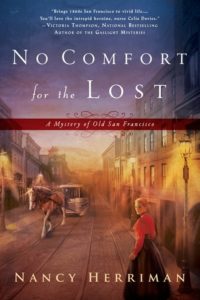 Nancy Herriman has taken a very specific time and place and brought it to life. Her central series character, Celia Davis, British born, has served as a nurse in the Crimea. Through marriage, she's ended up in 1867 San Francisco, as the man she married was a hot blooded Irishman looking to make his fortune in the gold rush. He has vanished – he may be dead, or he may not be dead, but Celia is running a clinic on her own and serving as guardian to her cousin, Barbara, who is slightly crippled as well as half Chinese. In 1867 San Francisco, being Chinese was far more of an impediment than being crippled.
The mystery centers on the discovery of a dead Chinese girl, who, it turns out, was a friend of Celia's, a former prostitute now working an honest job and living with Celia's rather unpleasant brother in law. Despite his unpleasantness, Celia is certain he's not the cause of her death, which despite appearing as a drowning initially, has been found by the coroner to be a stabbing.
Investigating the case is Detective Nicholas Greaves, a Civil War vet with a backstory of his own. That's a big chunk of backstory, all things considered, to include in a first novel, but Herriman carries it off with aplomb. She's an engaging and smooth storyteller. I was caught up in her world, even as I was certain there are many more threads involving her characters to be unraveled in books to come.
In this novel her central theme concerns the treatment of the Chinese, who were ardently feared and hated, not only for their different culture, but they were seen as taking "American" jobs. Sound at all familiar? It is eerily so, as Herriman, writing about 1867, could just as easily have been writing about nearly every immigrant wave that's come to this country. It's unclear if the death of the young woman was tied to anti-Chinese sentiment or if the reason was more personal – the girl was found to be pregnant.
Herriman weaves a tricky and hard to put down story, and I'd gladly turn the pages of another Celia Davies adventure. Her setting is clearly defined, her sidebar characters are memorable, and her canvas, while wide, is specific and detailed enough to hold your attention. A very nice first effort.