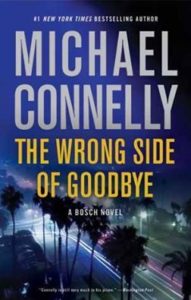 It's been awhile since I've enjoyed a Michael Connelly book as much as I enjoyed this one. I always enjoy them, don't get me wrong, but some of the fizz was gone for a couple books there. It seems to be back in a big way in this new Harry Bosch novel, where Bosch takes on not one, but two, cases and arrives at a meaningful and satisfying solution for each one.
As the book opens, Bosch is requested to meet with reclusive billionaire Whitney Vance. Vance has made his fortune in steel. As Bosch heads over to meet him in an uncharacteristic jacket and tie, he thinks "he was calling on six billion dollars," a nice nod to Raymond Chandler, and the plot, as it always does in a Connelly novel, takes off in a rocket powered fashion from there.
Vance is looking for an heir.   He's 85, knows he doesn't have long, and wants to see his vast fortune go to family. While Connelly doesn't have the prose chops that Chandler had, Chandler's got nothing on Connelly when it comes to pure plot. This many books in (this is the 21st Bosch title) Connelly is a solid pro and he's comfortable with it. The ease of reading seems to equate with the ease with which Connelly relates a story. Like watching a great athlete, it's relaxing – you know there won't be a misstep and it's always nice to be around perfection in whatever form it takes.
As Bosch gets to looking for an heir, he uncovers a trail of heartbreak that is surprisingly moving. Connelly was able to make me care about the character stories he's relating as he follows the trail in a remarkably short swath of prose.
Meanwhile, he's left the police force under something of a shadow, and he's working as a reserve officer for the San Fernando PD, a small department. He also works as a PI (hence his job for Vance) and is able to set his own hours. This seems like a nice resolution, to me, of what should Harry do after leaving the LAPD? It didn't work for me so well when he was just a PI, though I enjoyed the last novel, The Crossing, when he teamed up with his defense attorney brother on what he saw as the wrong side of the courtroom.
In any case his reserve status gives him the freedom he always wanted as a tormented homicide cop for the LAPD, and San Fernando is lucky to have a cop of Bosch's quality ion their side. He and one of the full time detectives are working on the case of a serial rapist they are calling the Screen Cutter, as the rapist cuts the screens of his victims and gets into their homes that way. Both he and his partner, for want of a better word, feel there's another one coming and they are working to prevent it from happening.
As always, a Bosch novel is a mix of procedure, well delineated characters, a side bar of Harry's personal life, and the plotting of a master. The two cases race to a side by side conclusion, with Bosch resolving both. While Connelly's prose is workmanlike, his heart is not, and there are buried nuggets of profound thought interspersed throughout the novel. In 50 years I think mystery writers of the future will be citing Connelly as their major influence just as writers today cite Chandler. Long may he write.