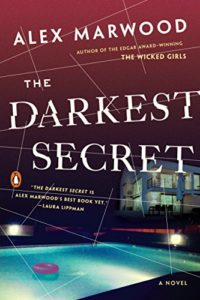 Mystery writers have always, throughout time, held an unflinching mirror to their contemporary society. Alex Marwood, much like her brilliant contemporary Laura Lippman, is exceptionally good at this. I think one of the keys is not to hold the society or whatever parts of it you are writing about in actual contempt. There's an element of familiarity, that, if done well, should make a reader uncomfortable. Of course mysteries also add in the element of an extreme event, obviously a murder, and the reactions of the characters to this event factor in to the plot. If done well you are putting yourself in the shoes of the characters and feeling maybe the fit is a little too close.
Marwood's set up is a compelling one, and echoes the 2007 disappearance of Madeleine McCann in Portugal. While Marwood keeps her book at home in the UK, the surrounding circumstances are similar. A wealthy man had invited a group of friends to enjoy one of his rehabbed mansions (he's a very high level house flipper) before he sells it, as well as to celebrate his 50th birthday.
The book opens with different accounts of toddler Coco's disappearance, and it's clear none of them have any idea of what actually happened. Marwood then skillfully weaves her narrative back and forth through time, as she paints of picture of a wealthy, spoiled man enjoying his privileges in the company of his second wife with several equally successful couples and their assorted children. It's clear he was not a nice man, the wife is very unhappy, and the various friends have their own issues.
The narrative ends up belonging mostly to the man's then 15 year old daughter, Millie, and the twin of the missing girl, Ruby, as they meet as adults (or semi adults) for the funeral of their shared father. The two of them have different mothers and there is some wariness involved, but that quickly wears off when it becomes obvious they are naturally sympathetic friends. 15 year old Ruby is a Goth in training; Milly, a late 20 something, is a dedicated party girl living a somewhat dissolute life. While neither of them were especially close to their father, they are weirdly still very sad at his passing.
Their shared journey takes him to the house of their father's 4th and final wife, who has her own toddler and is behaving in an oddly stepford wife-ish manner when they arrive. As the story focuses on the funeral preparations, it also goes back to the weekend when little Coco disappeared and everyone's life was upended by it. Ruby barely remembers her little twin but Milly does, though her recollections of the weekend are cut short as she and her sister India took off in a snit when it became clear to them that their father had forgotten they were coming.
Marwood's precise explication of each character in this novel is brilliant, and in that, she's absolutely contemporary as she explicates both character and the aftermath of a crime. But she's also old school in her love of a tight plot and a vicious, unexpected twist or two. She won an Edgar for her first novel, The Wicked Girls, and she's quite obviously a talent to watch. If you have a taste for a dark and twisty read, I can't recommend this one highly enough.