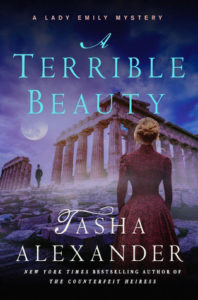 At this point in Tasha Alexander's career, now eleven novels in to her Lady Emily series, you're either all in or all out. I am all in as Lady Emily makes her way around Victorian Europe solving crimes with the help of her dashing husband, Colin Hargreaves. As most loyal readers will know, Lady Emily was widowed in the first novel, And Only to Deceive, falling in love with her husband only after the fact. She ends up mirroring and following his passion for the classical world.
Emily ends up marrying one of his best friends, a true love match, which has produced children and a wonderful series of exploits. In this novel Emily and Colin are on their way to a relaxing vacation at Emily's Greek villa, partially as an attempt to cheer their friend Jeremy who suffered a trauma in the last novel (The Adventuress), but also an excuse for Emily and her friend Margaret to argue cheerfully about the differences in Greek vs. Roman culture. In happy expectation, they arrive on the island, only to discover that something is amiss.
READ NO FURTHER IF YOU DON'T WANT TO KNOW WHAT HAPPENS.
While this is not technically a spoiler, is revealed on the jacket, and is the incident around which the plot revolves, it was shocking to me that Emily and Colin arrive at the villa to find Emily's dead husband waiting for them. Apparently, Philip Ashton is not dead and in a series of flashbacks we discover what's happened to him during the years of 1888-1899. As the past and present threads draw closer, so of course do the suspenseful elements of the story.
To me, however, this book was all about Emily and Colin's reaction to meeting up with the long thought dead Philip. While the story concerns a number of dangerous characters, after Philip because of an incredibly rare object he may or may not possess, the real emotional heft of the story were Emily's and Colin's reactions to meeting Philip again. As civilized human beings some protocols are observed, but what protocol is there when meeting your dead husband, especially one you fell in love with after his death?
This is an especially poignant interlude in Lady Emily's history, filled with Alexander's usual bravura hand at adventure, setting and intrigue. With its Greek setting this one reminded me a bit of Mary Stewart's classic, The Moonspinners, mostly for the setting and the ability of both writers to convey what must be the otherworldly beauty of Greece. Stewart and Alexander are also wonderfully crisp storytellers, and if you enjoy one of these writers but are unfamiliar with the other, I urge you to give the other a try.
I won't reveal any more about the story other than to say this in an eminently satisfactory read in one of the most enjoyable historical mystery series on the planet.