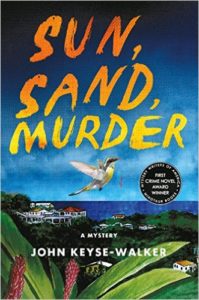 Mr. Keyse-Walker is the winner of the Mystery Writers of America/Minotaur Books First Crime Novel award (the award being publication), so I turned to it with some interest. Past winners of Minotaur/St. Martin's contests include Steve Hamilton, Michael Koryta and Julia Spencer-Fleming, so the bar is somewhat high. I was at first jarred as I opened a novel set on tiny Anegada, a remote member of the British Virgin Islands. The main character is special constable Teddy Creque, who is a native islander. The author, a lawyer from Ohio, couldn't seem more removed from his character, but then I decided the guy who wrote Memoirs of a Geisha wasn't very much like his character either, so I settled in.
Keyse-Walker is a natural storyteller. While some of the tropes are familiar—the small town cop (the "town" just happens to be one of the Virgin Islands, so his beat includes the beach), the sidekick, the mistress and the chaotic and expected family life—Keyse-Walker adds his own sparkle to the proceedings, making reading this novel very enjoyable.
I especially loved the sidekick, De White Rasta, a white English man who spends his days happily stoned, sleeping on the beach, and bothering nobody. When De White Rasta alerts the police that he's found a body, Teddy isn't sure whether to believe him, and takes him along on a bumpy jeep ride, only to indeed discover a dead body covered with scavenging tiny crabs. The body, that of a professor studying the island's iguanas, raises more questions than it answers. Who would want to kill a man studying iguanas who lived in the back of a bar, all his belongings stored in plastic crates?
Teddy gets into a bit of trouble as he moves the body (and throws up next to it) thus destroying the crime scene; he's put on suspension, to take place later, and ordered not to investigate. This is a mystery novel, however, so of course Teddy investigates, with the help of De White Rasta, perhaps one of my favorite sidekicks in recent memory.
In fact, while this novel was expected in many ways, it was unexpected in many others, including the excellent denouement and surprising solution to the crime. The setting was the icing on the cake, and if you've ever visited the Virgin Islands, you'll realize it's pretty authentic. I found myself smiling along with Teddy as he attempted to crack his first case. I hope there will be more.