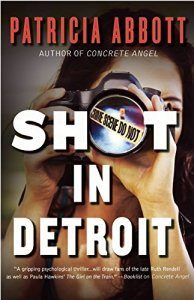 Ovid tells the story of a beautiful sea nymph who caught Jove's ever roving eye. However, wise old Proteus had predicted that her son would outstrip her father's glory, and Jove, wanting none of that, sent his grandson, Peleus, to marry her instead, contenting himself with vicarious conquest. A son was indeed born, and hereafter Peleus, despite his own achievements, was known chiefly as the father of Achilles. With all the (deserved) attention being paid to her daughter Megan, I can only hope that a similar fate doesn't befall Patricia Abbott, who has written a very fine crime novel called Shot in Detroit.
Shot in Detroit is the story of white, bohemian, thirty-something female photographer living in suburban Detroit. Violet Hart makes a living shooting weddings and other commercial projects, but her heart is in her more artistic endeavors. She's been shooting the once grand but now decaying and abandoned buildings of the city, but that once provocative subject is feeling played out. Everything changes when her boyfriend, a black mortician with a flair for imaginatively dressing the deceased, asks her to photograph one of his clients so that his distant parents can see him one last time before he's laid in the ground. Even as she takes this first shot in a somewhat makeshift fashion, she realizes that she's found her new visual obsession — the dead of Detroit, of which there are far too many. Her new passion leads her down some pretty creepy rabbit holes, filled with many complications and ambiguities, and a few very weird fellow travelers.
The first thing to know about Shot in Detroit is that it is not a traditional mystery. The deaths remain random, never settling into any kind of pattern, or revealing a genius serial killer behind all the carnage, which in some ways proves even more terrifying that the usual thriller. Rather, it's a crime novel about themes and characters, about artistic obsession, race relations and the sad decline of a once great city in which violent, premature death has become sadly commonplace, more in the vein of Patricia Highsmith and Barbara Vine than Agatha Christie.
After last year's excellent Concrete Angel, Abbott has produced another compelling and disturbing novel, once again demonstrating that the Abbott family has more than one praiseworthy writer. (Jamie)