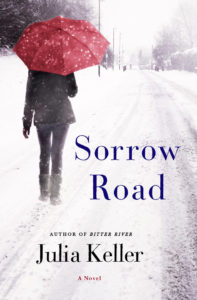 Julia Keller has quickly proven to be one of the brightest lights in the present mystery universe, crafting novels where character, plot, sense of place and a genuine human empathy and deep understanding combine seemingly effortlessly. This is another bravura effort by Ms. Keller, whose novels featuring prosecutor Belfa Elkins are set in tiny Acker's Gap, West Virginia. As always Belfa is working flat out, as she's nursing a broken heart from a self imposed "break" from her boyfriend and trying to adjust to her daughter living in far away Washington DC.
As the book opens, Bell's daughter Carla is making a frantic middle of the night getaway from DC, where something quite obviously is terribly wrong though what it is is not revealed until much later in the story. Carla arrives on her mother's doorstep the night after Bell had met an old frenemy at a bar.   The woman, Darlene, a highly successful DC attorney, has just lost her father to Alzheimer's. Despite his advanced condition, she's not sure his death was natural and she begs Bell as a favor to look into it. Bell is mulling it over but switches to detective mode when Darlene is killed in a one car accident the very same night she and Bell met for drinks.
Thus the parameters of this complex, moving story are quickly set – it's Carla's story as well as the story of Bell's investigation into the death of Darlene's father. The book then goes back in time to follow the lives of three young Acker's Gap men, one of whom, it becomes quickly apparent, is the man whose death Bell is investigating. How they relate to each other as adults, to the present day story, and the terrible secret they all share is the main thread that's unraveled through the book.
Keller examines the part a community plays in forming character, in maintaining and setting character, and the way a small community can hold and keep a secret. The formation of memory and the losing of memory are also key to this story. While loving acts and relations can be forgotten, so can painful ones, leaving the ones with the memories exactly where? As always Keller's examination of the human heart in all its messy glory is one of the biggest reasons this series is to be revered, enjoyed and thought about after the last page is read.