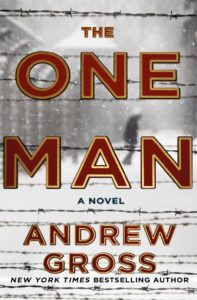 Thriller writer Andrew Gross has turned his sights to a topic closer to him personally, the Holocaust. While I almost feel I have read, seen and learned everything about the Holocaust, this book provides a fresh look at this hellish time in human history and reminds us that as humans we are capable of devastating cruelty. The balance Gross brings to his novel – a balance between storytelling and what is obviously deeply felt history – is really very well handled. I could not put this book down nor could I stop thinking about it.
Gross takes a simple idea as his central tentpole: what if one of the many thousands of gifted scientists herded into the camps actually held the key to the Atom Bomb? And if that were true, how then could this "one man" be gotten out? Impossible.
Some of the real history laced through the story Gross unspools is sometimes the most unbelievable. There were in fact actually two men who escaped from Auschwitz, and their reports of what was happening circulated at the highest levels of government abroad, up to and including FDR. There was also a man who snuck in and got out the next day with an eyewitness account.
The scheme that takes shape in the book is this: the scientist in question, one Alfred Mendl, is indeed in Auschwitz, merely existing there after the brutal murders of his wife and daughter. In America, a young Jew who escaped Europe at the right time (while leaving his own family behind) has enlisted in the U.S. Army and he's recruited to sneak into Auschwitz and get Mendl out. This seems impossible.
Gross has many threads to his story; we learn about Mendl's life, about the young man, Nathan's; about life in the ghetto; even some about the personal life of one of the Nazi guards. What Gross brings most vividly to life is a depiction of what life inside the camp was like; I was in tears more often than not as I read.
And I read and read. I could not stop reading this very well assembled thriller which takes the impossible and tries to figure a way it might actually be possible. There's no way to tell a story about the Holocaust that ends well, of course, but for a few of Gross' characters, the ending is not so terrible. It's a small redemption, but a welcome one.
I most appreciated the Afterword, detailing some of his research and making clear the bits that were true and the bits he took a bit of liberty with. If you can read this book without your heart in your mouth or finish without a tear in year eye, I'd be very surprised.   This is a wonderful and memorable book, definitely one of the reads of the year.