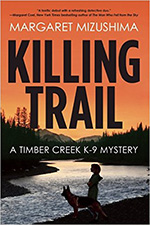 This is the first title I've read by new publishing house Crooked Lane and I have to say it was a knock-out.   If you're a fan of Dana Stabenow or Nevada Barr, you'll gobble this one up with a spoon. Set in rugged Timber Creek, Colorado, the main characters are deputy Mattie Cobb and her K-9 partner, Robo. Newly paired up with Robo, Mattie is dealing with a bit of sexism and a bit of resentment on the part of her fellow deputies, and she's also learning to trust Robo as a partner. That trust issue plays into the storyline in a major way.
I don't always like animals being a part of a mystery but a K-9 dog is actually doing the work of a police officer and the feel for the dog on the part of the author makes this book a standout. Whether or not you like dogs, I defy you to not be interested in Mizushima's descriptions of Robo uncovering various things throughout the novel starting, of course, with a dead body. He and Mattie are called out in the opening scene for a "blood spill" and a bravura scene later, they've uncovered a body.
In no way does Mattie have the hard edge of a Kate Shugak or an Anna Pigeon, but she has a rich backstory and there are many signs through the book that it will be explored further. For this novel it's enough to know that she's been raised in foster care and that it colors her view of different events in the book.
There are some great supporting characters as well, most importantly a vet who is asked to help out when an injured dog is found at the scene of the blood spill. The scenes with the vet at his clinic and at his home, where he's adjusting to a new divorce and juggling his busy practice with the care of two children, are especially well done.
Mizushima seems like a comfortable, natural born storyteller as seemingly random plot threads not only eventually knit together in an effective denouement, but also serve to illustrate the realities of police work in a small town. The setting and character array are rich and well developed, and the pace of this novel is excellent. I read it through in a day and already am hoping for another installment.