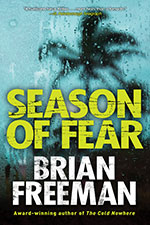 Taking the detective from his excellent stand-alone, The Bone House, Freeman brings the eccentric Cab Bolton to Florida and lands him in the middle of an unholy mess. The novel begins with a shooting at a political rally, where the candidate and a couple others were shot and killed. The shooter escapes and a later capture and imprisonment leaves some folks not so sure the right person is in jail for the crime. Flash forward 10 years and the dead candidate's wife, Diane, is in the race for Florida Governor as a third party candidate. She's supported by her best friend, Tarla, who also happens to be Cab's mother. Cab has been asked by a campaign operative to look into possible threats to Diane as the 10th anniversary of the shooting approaches.
Incredibly timely, Freeman's book is a look at the backstage part of politics, set during a hurricane. Along with Cab, the book focuses on Peach Piper, a political operative who does "opposition research." Peach was far and away my favorite character in the novel, as she's incredibly nuanced. She's fierce and smart but also damaged by the shooting of her brother, who died along with Diane's husband in the incident that opens the book. She's also recently lost her boyfriend to murder and while cops and others are saying his death was drug related, she isn't buying it.
While she continues her work for the campaign she's also working on her own to find her boyfriend's killer and exonerate his name. She's not sure who to trust, and neither is the reader, though all through I was certain Peach and Cab were OK. Everyone else was a question mark.
This is a tightly wound thriller that climaxes with a hurricane – a very Florida occurrence, and as the book draws to a close there are a number of surprising twists and turns of plot. One in particular was especially neat and surprising. This is a book you won't be able to stop reading as you race to find out the ways Cab and Peach help each other figure out the truth.