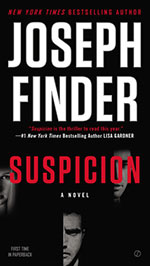 This is the first book I've read by the talented Joseph Finder, who really writes a killer thriller. Some parts of this book were so suspenseful I had to remind myself I was only reading about fictional characters. There, I've said it, disclosed my wimp-hood, but Finder really knows how to crank up the suspense in a simple scene where a character is someplace he really, really shouldn't be.
The story grabbed me from the opening as we join writer and single father Danny Goldman feverishly wondering how he can afford the pricey Boston private school his daughter attends, much less the $5,000 trip to Italy all the juniors go on. His tuition is late and the headmistress is happy to wish his daughter, Abby, good luck at her new school. It seems there's no answer, until Danny discovers that Abby's fabulously wealthy new bestie has a dad willing to foot the bill for Italy. One problem solved.
The family invites Danny and Abby over for dinner and he's disarmed by their normal niceness despite their huge gated mansion and chauffeur. Danny is more than bemused when the father, Tom – from a working class background in South Boston, just like himself – turns out to be such a regular guy. Over drinks in his study he offers Danny a personal loan large enough to cover his Abby's tuition and pay his bills. With a book deal that's going south Danny accepts, but the relief he feels at meeting his obligations is short lived.
Not long after the wire transfer appears in his account, Danny is contacted by the DEA who inform him that either he inform on his new friend for them or go to prison. The wire transfer is all they need to prove he's connected to a drug cartel. Reeling, Danny agrees, and the rest of the novel is an incredibly suspenseful ride as Danny tries to balance his fledgling friendship with Tom with spying on him and attempting to slip listening devices into places he shouldn't.
Finder manages to create a great deal of suspense with minimal violence (though there is some, this is after all a novel about a drug cartel) by telling a great story and keeping the plot – and characters – just a twist ahead of you as you're reading. Danny is such a decent everyman type you'll no doubt be wondering how you would behave in his shoes, but hopefully you'll never have to find out. You will, however, probably want to pick up another Joseph Finder novel.