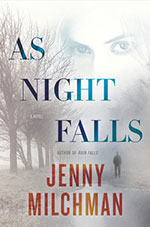 Jenny Milchman's third novel is the scariest yet – so creepy, I had to keep setting it aside periodically, though that didn't make me stop reading. And I was well rewarded in my perseverance. As the book opened, I feared it was a standard prisoners escape, hold family hostage type story, but it evolved into something far more. Milchman carefully describes the beautiful home of the Tremont family – Sandy, Ben and daughter Ivy. Thanks to an inheritance, they've built a gorgeous, isolated house in the Adirondack woods, a house it appears Ivy and even Sandy were reluctant to move to, though Sandy now embraces the peaceful solitude.
The other thread of the story – and the two are naturally going to collide – concerns a planned prison outbreak on the part of Nick, who appears to be the brains, and the giant Harlan, Nick's willing sidekick and for want of a better word, tool. The break goes as planned on the end of a highway workday for a small, trusted group of prisoners. Nick and Harlan hijack a car and the ensuing violence leaves them in possession of the car, which Nick unerringly drives directly to the Tremont's house.
While much of the story is kind of standard (if terrifying) suspense novel type stuff – i.e., will the daughter alone in her room on her headphones and computer ever sense there are intruders in the house? – and what will Sandy do to protect her family as night and a snowstorm prevent the men's chance to escape through the woods? I will say Milchman is very, very good at suspense, and this is a very scary book.
However, she then begins to back track into Nick's childhood, following his growth with a mother who worships him and never calls the boy – prone to tantrums and violence, kicked out of many schools – on any of his behavior. His mother thinks he is "gifted" and "creative." She is alone in her belief.
While the rest of the family dynamic is teased out throughout the book – including the reason Nick was sent to prison in the first place – we follow the Tremonts in their journey to hopefully escape Nick and Harlan's clutches. While I always like for a writer to be able to make any character appealing, Nick is an unredeemable bad guy. Milchman, though, tries to explain why. I think that's what sets her books apart, and she's certainly developing as a writer as she goes.
As the reasons for Nick's (and Sandy's) behavior become clear, and the family withstands and witnesses all kind of terrible things, the end is more or less a happy one. At the end, I was left thinking about Nick and his relationship with his mother. A suspense novel with food for thought is a real achievement.