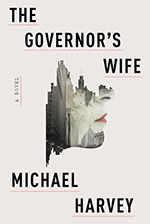 This is a welcome return of Michael Harvey's now virtually classic Michael Kelly series. Kelly is a Chicago P.I. who reads classical literature to relax (he loves Ovid) and the series is a lean, mean private eye juggernaut that takes no prisoners. There are very few actual private eyes left on the landscape—the remaining P.I.'s are often reluctant like Steve Hamilton's Alex McKnight, though there are a few holdouts: Loren D. Estelman, Sue Grafton, and Sara Paretsky. All of those series are aging honorably, but the Kelly series is still in full bloom.
Ripping his story from the headlines, the story concerns the corrupt Governor of Illinois who has disappeared before heading to jail to serve a 30 year sentence. He has literally disappeared from the elevator on the way to the parking lot, and now two years later, Kelly gets an anonymous request to find the missing Governor along with a preposterous amount of money wired into his account. The biggest clue seems to be the wife he left behind.
When Kelly talks to her she claims to have no knowledge of what happened to him, but advances the theory that he's probably dead. Kelly gets caught up observing one of her charities—underprivileged babies and mothers—and then begins to delve into the Governor's ties to building roads around the state to the tune of billions of dollars.
An unsentimental writer, Harvey nevertheless cuts to the heart of his loner detective's emotions and follows him so closely on his journey you'll feel like a P.I. yourself. He doesn't waste a word on anything unnecessary, and his complex plot with many threads is effortlessly pulled together at the end of the novel with a bad guy worthy of the name.
There are as many reasons to admire Harvey as a writer as to enjoy his books. His clear, concise storytelling style, his grasp of plot and character, and his clean way with a line of prose all add up to a spectacular read. Once you encounter Michael Kelly, you won't soon forget him.