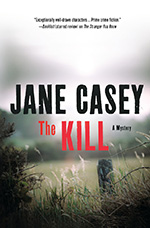 Another take on the British police novel comes from Jane Casey, whose love-life-clueless-work-life-competent Maeve Kerrigan is a fresh, memorable character. She's young, she's fighting tooth and nail to be taken seriously and treated equally, and she's one of the few who gets along with her higher up, the prickly Josh Derwent.
Casey's feminist take on the police novel is welcome and realistic – Maeve is mostly taken seriously by her boss but she's treated in a very sexist way by Derwent, who nevertheless values her opinion and likes working with her. Higher up the chain female officers are threatened by her and Maeve handles her work life with aplomb. She's made a pact with herself never to cry at work, no matter what happens: Josh tells her towards the end of the novel, "Don't be that girl who cries at work." It's a perfect encapsulation of Maeve's daily struggle to keep it together on the job, and reminded me of Holly Hunter's solitary morning crying jag in the film "Broadcast News."
While she's perfected her no nonsense work persona, her romantic life with the appealing Rob never seems to run smoothly, often because of communication problems between the two of them. However, Maeve's love life is back burner in this fast paced story that turns out to be about a series of cop killings across London. The nature of the crimes couldn't be more topical: they appear to be related to the unlawful killing by police of an unarmed teenager and the general mood of the London public toward the police is distrustful.
Casey is nothing if not a gripping storyteller, however, all thematic concerns aside. The book opens with the shooting of an off duty officer in his car, and worse follows as Maeve and Derwent attempt to unravel a complex maze of motives which is helped by tracing the gun used through a London gun club. Unlike the United States, owning a gun in the U.K. is a very serious business and many types are outright illegal. Of course, it's one of the illegal variety that Maeve and Josh are trying to track down.
As Maeve and Josh trace the roots of the crime to the upper echelons of both organized crime and the police, Casey also explicates the family life of the first shooting victim, a man with a damaged son, an angry wife, and a miserable teenage daughter. Casey's matrix is a rich one, and her characters are never anything less than memorable, just like her stories. All of her books seem to flow effortlessly into the next one, and she teases the reader, at the end of the novel, of what might be next for Maeve. I can't wait to find out.