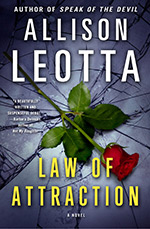 Allison Leotta's first novel featuring prosecuting attorney Anna Curtis is a hard- to-stop-reading type thriller, with an interesting central character and a tight plot. Leotta's Anna has a background including domestic violence – her father beating her mother – and she's become an attorney for that very reason: to help people like her mother. As the book opens she is on "papering room" duty – processing papers as cases come in, and one of them involves a bleeding young woman who has been beaten by her boyfriend.
Any novel that wants to grab and hold the reader's attention needs to make the reader feel something for the eventual victim. In this case the young woman, Laprea, is caught up in a cycle of violence with the father of her children, D'marco. Anna's heart goes out to the young woman as she encourages her to bring charges. When the case eventually does come to court, however, Laprea has had a change of heart, and she recants. Everyone, even Anna, understands what has happened, especially as Laprea and D'marco take off from the front of the courthouse together.
Taking place in real time, it's sometimes months between incidents, through Leotta telescopes the time so the pacing of the novel is swift. When the inevitable happens and Laprea is killed, the obvious suspect is the one who is arrested, and that's the last obvious thing that happens as the plot begins to twist from that point on.
Along with her work life, Anna dates an defense attorney she breaks up with as he's the one defending D'marco. She can't stomach that. She and her boss become close but there are all kinds of road blocks, including a decision of Anna's that sends her back to the purgatory of the papering room.
This is a zippy novel that had me flipping pages faster and faster – especially toward the end – to find out what happened next. Anna has a Michigan connection (she grew up in the Flint area) and the newest novel in her saga, A Good Killing, is set in Michigan almost entirely. This is a book by a home-state girl made good, and I look forward to more installments from this skillful author.