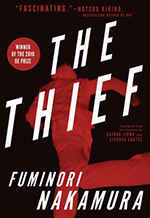 Although The Thief was not the first novel Fuminori Nakamura published, it is the first to come out here, and it's a good place to start, though not entirely representative of his work. Of course since only three of his fourteen books have been translated (a fourth, The Gun, which was, in fact, the first issued in his native Japan, comes out in October), it's hard to say comfortably generalize about his work (but try and stop me!). The Thief is the tight, taut crime story of an expert pickpocket who's gotten in a little over his head. Nakamura unfolds his story expertly, working in the slow revelation of the big job that still haunts him with his daily life of boosting wallets. Eventually the past comes back to get its due and things wrap up in a suitably fatalistic fashion. With its philosophic overtones and gritty noir realism it reads like a combination of David Goodis and Albert Camus, which is a pretty interesting combination, even if I found it a bit restrained and derivative, especially with the introduction of a little neglected kid who allows the protagonist to demonstrate that even if he is a criminal, he isn't such a bad guy.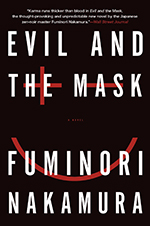 Evil and the Mask, the next book released in the U.S., was apparently also the next book Nakamura wrote, which I never would have guessed because it so thoroughly exploded my notions about his oeuvre. It's anything BUT restrained, a big, somewhat shaggy novel of ideas in the vein of Dostoevsky, a professed Nakamura favorite. Its protagonist is Fumihiro Kuki, the youngest son of a powerful Japanese family whose depraved patriarch has decided to continue a sinister tradition by raising him to be a "cancer," an immoral individual whose only goal is to inflict as much suffering on society as possible. Fate is a pivotal theme in Nakamura's work and gets full play here as Fumihiro both rejects and in some ways fulfils his putative destiny. In scenes switching from past to present we learn of the orphan girl, Kaori, adopted by his father for apparently sinister purpose who Fumihiro loves unreservedly, and, in loving and protecting, finds himself becoming exactly what he doesn't want to be. It's a compelling and intoxicating brew with powerful corporations, petty criminals, identity appropriation, and absurdist terrorists all playing a part. It's more a novel with crime in it than a crime novel, and anyone seeking a traditional mystery will be frustrated, but a very enjoyable concoction if consumed without prejudice.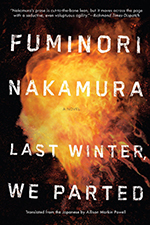 To me his third book released here, Last Winter We Parted, the story of a journalist trying to unravel a horrific crime, is the most successful in blending its mystery and literary elements. A famous photographer has been accused of burning alive two of his models simply to achieve a perfect image. On his very first jail visit the journalist is warned by the photographer that he's on the road to madness by immersing himself in this story, and it is a dizzying vortex of weird secondary characters, lifelike dolls and haunting images. Along the way there's plenty of room to naturally examine themes of art, identity and guilt. We're in the territory of English speaking masters of intellectual suspense here, people like Thomas Cook, Patricia Highsmith or Ruth Rendell in Barbara Vine mode, especially since the plot is as ingenious as the characters, building to a brilliant twist at its conclusion, making the reader question everything that's gone before. It's one of those books so cunningly assembled that as soon as you finish it you want to read it again just to admire how the author pulled it off.
Obviously, I very much enjoyed my own immersion in the world of Nakamura. He's a wonderful import, an entertaining, engaging and gifted writer who has the added dividend of providing a matter of fact portrait of contemporary Japan, a society so like our own and yet so different. Foreign mysteries are all the rage these days, and Nakamura's publisher Soho Press does quite a service to readers by providing mysteries from all over the world. Most attention seems to go to the Scandinavians, but these novels made in Japan are definitely worth a look. (Jamie)