As I read, I often mentally try to categorize, to fit what I'm reading into a mystery context, wondering about the predecessors of what I'm reading. When I first picked up Colette McBeth's book, I was thinking Ruth Rendell; but then I started Sophie McKenzie's book and it all fell into place. These women aren't following Rendell, they're following feminine suspense writers like Charlotte Armstrong, Mary Roberts Rinehart, Mignon G. Eberhart, Celia Fremlin, and even Mary Higgins Clark. They're writing stand alone thrillers with a domestic twist. And they've brought them oh so creepily into the 21st century – these are genuinely scary reads, difficult to put down, and ultimately, all ends happily.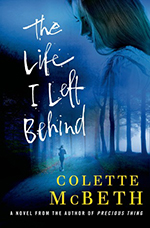 In McBeth's The Life I Left Behind, the lovely Melody is a virtual prisoner in her (admittedly beautiful) home, engaged to the handsome, successful Sam, but she's still traumatized by a brutal attack that left her for dead six years previously. When another woman is found murdered under eerily similar circumstances, Melody is finally spurred out of her lethargy, and her story becomes linked with the dead woman's, Eve. Eve is a partial narrator, as is Melody, and the book goes back and forth between them.
As the book progresses, it's clear Melody's personality has completely changed – she was a busy career woman, living in the heart of London, enjoying a wild social life; she's now a stay at home partner, busy decorating, planning her wedding, and cooking elaborate meals. All is ordered and planned online as she can't bear to leave the house alone.
Making Melody's jolt the greater, the man who was accused of her attack has just been released from prison – just in time to have killed Eve. As Melody looks into Eve's death on her own, it becomes clear that Eve, a television producer, was busy working on clearing the man's name and had made a breakthrough just before she was killed.
McBeth takes the reader deep into the minds of both women, and you are hearing the story shaded by their perceptions of events. As Melody gets access to Eve's case notes, which are extensive, it really becomes difficult to stop reading as each segment of the narrative reveals something new.
While I thought I knew where the end of the book was heading I was surprised, and happily so, as this author had carefully laid the groundwork for her clever and memorable denouement. I won't forget the characters or this story anytime soon.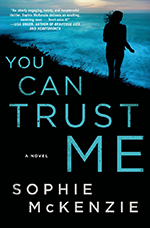 I then immediately picked up Sophie McKenzie's You Can Trust Me as I'd read her first novel straight through on a train trip last summer (Close My Eyes is now available in paperback). The similarities to McBeth's book became obvious: the central female character in jeopardy, the devotion to old fashioned storytelling, with a twist and surprise around every corner. I would give a little gasp at the end of each chapter and be forced to read on.
McKenzie's novel is the story of Livy Jackson, who lost her sister Kara during college, and as the book opens, is bravely attending a work party where she'll come face to face with her husband's mistress. Though their affair has been over for a number of years, Livy is still nervous, and ignores calls from her friend Julia. To her eternal regret.
When her husband, Will, is called away on a business trip, Livy packs up the kids for a weekly get together with Julia and finds her dead, an apparent suicide. I've read few mysteries where a suicide is actually a suicide and this one is no exception, though it's only Livy who's sure that Julia was murdered.
As she starts to look into it she meets Julia's mysterious boyfriend – she only referred to him as "Dirty Blond", though his name is, in fact, Damian, and he's sure Julia was murdered as well. The investigation drives Livy and Will apart as he's suspicious of Damian, and Livy becomes suspicious of him and his former mistress. She feels there's no one she can trust.
Trust is in fact the theme of the novel, and all in all I'd say McKenzie is a more sophisticated storyteller than McBeth, but both write books impossible to put down and both provided excellent endings, with McKenzie's being a real knockout. Though I'd figured out whodunit shortly before the actual reveal, the suspense was so great it didn't matter.
If these women follow in the footsteps of great female writers like Armstong, Eberhart and Fremlin, they have wonderful writing careers ahead of them. As it is, both have already gifted me with hours of reading pleasure.