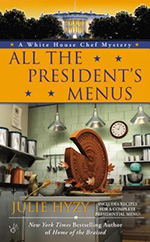 It's no secret that I'm a giant Julie Hyzy fan, whose White House Chef series just about reads like an episode of "The West Wing" only set in the kitchen. In the last book, to sort some personal stuff out, Chef Ollie Paras has to – gasp – leave the kitchen. Well, I understand. She had a lot on her plate and (spoiler if you haven't yet read Home of the Braised) she got married to her Secret Service sweetie, Gav.
OK. She's married, Gav is on medical leave, but she's – yay – back in the kitchen. There's a gentle jab from Hyzy aimed at the government sequester (it's forced Ollie's prized assistant, Cyan, on leave) and the lack of activity as state dinners have pretty much shut down. Ollie is just wishin' and hopin' for a little more of a lively time when word comes down that there will be a team of visiting chefs from the country of Saardisca, and they'll be working with Ollie's team to create a dinner for a Saardiscan Presidential candidate, to be held across the street at Blair House.
Ollie prepares for the visit, unsure of what to expect. Apparently Saardican men, for one thing, are uncomfortable with the idea of a woman in charge, and look to Ollie's assistant, Bucky, for guidance. They also frequently lapse into Saardiscan, and Ollie wants to know what they are discussing, especially after a series of accidents leaves the White House pastry chef and then one of the Saardiscan chefs incapacitated. Ollie has a hard time convincing the Secret Service of the budgetary need for a translator.
In true Ollie fashion, the action ratchets up and the plot thickens, even as the dinner for the Saardiscan candidate is planned and prepared by a rotating team of chefs. Since Gav is on leave she doesn't have him to turn to but this far along she can take matters into her own hands and be trusted by the powers that be.
Hyzy's delicious combination of White House protocol, a little dab of cooking, and her real genius – character development and interaction, along with a rousing good story – had me flipping the pages faster and faster until the end. There's always an item prepared in the course of the story I wish I could actually see (you can Google the White House kitchen and Blair House, though) and she even includes a kick ass granola recipe in the recipe section at the end. If there's a better way to spend $8 I'm not sure what it might be.