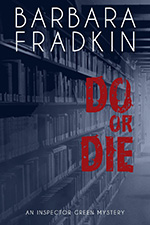 Barbara Fradkin is well known in Canada, and deservedly so. Her Inspector Green series, of which this novel is the first entry, are solid police procedurals with the charming Inspector Green using that favorite device of mystery readers everywhere: deductive reasoning. And as most mystery readers prefer to read a series in order, I'm reviewing the first in Fradkin's series though she has now written ten novels in the series, the most recent being None So Blind.
I loved the set up of this first novel and I really loved the way the book and the characters who inhabit it hit the ground running. They obviously had a life going before we hit the scene, and it's a sure sign of a writer able to create fully dimensional, realized characters. As I was reading I was sometimes curious about events in Inspector Green's past but Fradkin presents him as he exists in his present reality. As it is with getting to know an actual human being, meeting Green is like getting to know someone you may become friends with later.
The story is a dandy: a grad student's body is found dead in the stacks of a University Library. Fradkin's books are set in the cosmopolitan city of Ottawa and this one is set on the campus of the University of Ottawa. As the identity of the student is discovered – he's from a prominent, wealthy family who are using their connections to demand answers of the police – the pressure falls on the head of Inspector Green who, while running the investigation, also chooses to go out in the field and interview suspects.
Meanwhile Green's family life is suffering – he and his wife work opposite shifts, they have an infant (who neither of them ever seem to be able to see) and they are like passing ships in the night. His marriage seems to be imperiled (and here is where is almost like a friend: you want to reach into the pages and give him some much needed practical advice), but he's totally immersed in his case, to the exclusion of practically everything else.
As the investigative net tightens to focus on the backbiting world of academic politics (the dead student was a scientist studying different aspects of the brain), with a few girls and other red herrings thrown into the mix of what is a well plotted, well written mystery. The ending is clever and satisfying and leaves the reader with some hope for the marriage of the hapless Green.
As the series progresses there's also an emphasis on Green's father, a holocaust survivor (he only briefly appears in this novel), as well as a teenage daughter from Green's first marriage. This is a series well worth delving into; and one not to be missed if you enjoy the traditional "Inspector" type of police novel.