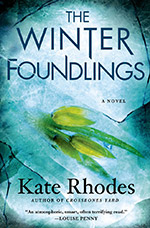 Psychologist Alice Quentin had a rough time in Rhodes' last novel, A Killing of Angels. A consultant for the police, she got caught up in a serial killer case that almost ended her own life. So, in this book, for a relaxing change of pace, Alice decides to spend some time at a hospital for the criminally insane, doing research. Ahhh, how refreshing!
Rhodes is devoted to a Victorian love of coincidence and it actually serves her quite well, especially in this novel, where the central crime is connected to the very Victorian Foundling Home. Really, the entire set up could not be more Victorian – the hospital where Alice is doing her research is an old, somewhat renovated throw back out in the country, and Alice has rented a picturesque, if freezing, cottage in the middle of the woods, the kind you might think belongs in a fairy tale. It's probably the one belonging to the witch in Hansel and Gretel.
What the Victorians had in spades was a love of narrative, and Rhodes shares both the love and the skill. When picking up one of her books, I'd advise you to clear your schedule, as despite yourself you probably won't be able to put it down. I know Victorians used to lock themselves up in their studies for the latest Dickens installment – this is a very similar reading experience.
Rhodes is improving with each book and in this one, her third, she really hits her stride. Alice has no intention of getting re-involved with the police, but when her old buddy Detective Don Burns asks for just a quick favor, she can't say no, as it involves a string of missing young girls who are later discovered in cardboard coffins, wearing Victorian style white nightgowns. What gets her is the most recent abductee, a charmer named Ella.
Rhodes gives Ella's view of her captivity in between chapters, amping up the reader's desire as much as Alice's for her to be rescued. The killings appear very similar to the incarcerated Louis Kinsella's crimes, and he rarely speaks, though he chooses to communicate with Alice. He gives her sporadic hints that have the police racing to figure out the clues and save the missing girls.
While I'm not a giant fan of books where the victims are children, this one wasn't as awful as some, though it's still pretty heartbreaking. Alice's living situation adds to the atmosphere as along with falling asleep to the screeching of owls, she feels she's being watched and indeed her cottage is eventually breached. Both the police and her brother beg her to get out. Everything works out, in true Victorian fashion, in the nick of time. However I'm hoping Alice heads back to the safety of London in the next book….all in all, a more than satisfactory read.