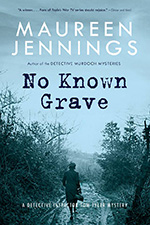 The final novel in Maureen Jennings' fine Tom Tyler trilogy is every bit as gripping as the first two – in each, Jennings explores different aspects of life on the home front during WWII. In the first, she looked at the Land Girls; in the second, at a munitions factory; in this novel, perhaps the most heartbreaking at all, she takes us to a wounded veterans home, where the men and women have mostly been seriously disfigured, blinded, crippled, or all three by their war experiences.
Jennings' skill as a traditional mystery writer is at the forefront here. She is brilliant at constructing a story with various clues and red herrings, almost daring the reader to figure it out (I sure didn't). This book reminded me most strongly of one of my favorite books, Christianna Brand's Green for Danger, which is also a kick ass detective story set inside the confines of a wartime hospital.
As Jennings quietly and skillfully paints her background picture, up front she delivers a shocking and terrible crime which also appears to have no motive or possible killer. Jock McHattie, a blinded vet living on the hospital grounds with his family, has been found shot to death along with his oldest son, who is only 16. The younger brother has been found hiding under the bed; the mother and daughter have been away and come home to the grim news. As Tyler, who is running the case, questions everyone it becomes apparent Jock was well liked, making the crime even more baffling.
Jennings uses a very traditional format – Tyler questions all the nuns and nurses at the hospital as well as the patients. Prior to questioning the patients he asks a nurse their capabilities, listing each in an "able" or "not able" column. Few fall into the latter.
Jennings also makes vivid the life of the convalescents who are being taught various life skills by the sisters so that they can re-enter the world somewhat prepared. Your heart will break for them though and it's hard not to relate it to the stories of present day vets. It's also hard not to relate Jennings' description of fanaticism to events of today as well. This traditional mystery ably spans the gap between a clever detective story, an excellent and evocative setting, and relevance to current events.
My favorite things about Maureen Jennings books, though, are her characters. Setting her novels on the home front they are of necessity somewhat female-centric; in this novel, I was especially taken both by Daisy, a one eyed WREN, and the almoner, Sister Rebecca, who assists Tyler in his investigation. Also vividly portrayed is the pregnant McHattie daughter, Shirley, who is unmarried and young and wanting the excitement she can't have, sequestered on the grounds of a veterans hospital as she lurches though her pregnancy.
This is another terrific book from the talented Jennings who also gifted the reading public with her spectacular Inspector Murdoch series set in Toronto. The Murdoch stories is a huge hit on Canadian TV and is just starting to make an impact here. Jennings is a superstar in Canada; she deserves to be one here as well. Fans of Charles Todd and Jacqueline Winspear will find much to enjoy in these wonderful books.