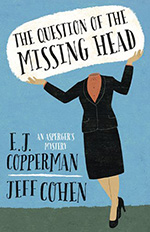 This absolutely charming, totally enjoyable book is one of the reads of the year from E.J. Copperman/Jeff Cohen, a writer with a long and solid history in the cozy mystery genre. His earliest books featured a parent with an Asperger's child; in this one he's streamlined his concept and given the main character Asperger's, something that enhances his skills as a detective. Cohen, the real life parent of an Asperger's child, illuminates the condition for the reader in the best possible way: by showing, not telling.
His central character, Samuel Hoenig, has opened a storefront he calls "Questions Answered" where anyone can call or come in and ask him absolutely any question and he will figure out the answer. Of course, to do that in this story, he uses skills many of us are familiar with in any detective story – he goes to the location of the crime, asks questions, collects evidence, and forms a solution based on what he's found.
Because he has Asperger's he is extremely thorough, something which quite naturally makes him an excellent detective. He also takes nothing for granted and is quite literal, as well as being unclouded by emotion; it really makes him good at his job. Our story begins when a Dr. Ackerman comes in to ask him to find a missing head – one that's been cryogenically frozen at his institute, where people are frozen in perpetuity, awaiting the cure for whatever caused them to die in the first place. The missing head in question belonged to one Rita Masters-Powell.
As luck would have it, a woman named Ms. Washburn (Janet to us) has come in with a question for Samuel and is there when the doctor shows up. She agrees to drive Samuel over to Ackerman's institute and tags along as he goes in to gather evidence. Unfortunately, they stumble across a dead body in the chamber where the head had been located, complicating matters.
At all plot turns, Samuel's point of view is honored, and he's kept in the realm of social acceptability by the gentle prodding and reminding of Ms. Washburn, who quickly proves herself invaluable. The detective on the scene, dealing with his first homicide, asks Samuel for help and the three of them form a team as they search for both the missing head and try to figure out who killed the woman in the lab, two incidents Samuel is certain are connected. Of course they are.
Samuel and the television detective Monk have some striking similarities (referred to by the author); though they have different disorders, they have some similar behaviors, but both characters are so gently and completely humanized its impossible not to feel both a strong affection for them as well as a bit moved by their situations.
At every point, Cohen beautifully illustrates the reason Asperger's folks behave as they do; as he describes it you begin to really understand that it's simply a different way of interpreting the world. He doesn't really sugarcoat it either, as Samuel has several occasions during the story where he's rendered unable to function by various circumstances, but in general he is simply a curious mind hard at work. Cohen adds an extra soupcon of character to Samuel by making him a Beatles fan – he asks everyone he meets which is their favorite song, and is then able to assign character traits to them based on their choice. To him, a clever coping mechanism; to the reader, a delightful sleight of hand that will have you wondering what your own favorite Beatles song says about you.
This is literally an almost perfect novel set within the confines of the traditional mystery. It's a clever detective story; the characters are interesting and realistic as well as entertaining; the solution to the crime is smart and well laid out; and the confines of the cryogenics lab add a nice locked room aspect to the whole affair. All the parts of the story work together seamlessly – the whole novel sparkles with Cohen's light touch and sure hand. Bravo.