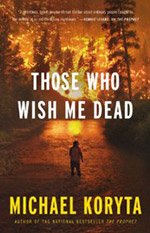 I'm not a big fan of those headlines that read "The Best Writer You've Never Heard Of," mostly because I often have heard of said writer. It's a tidy formulation, however, and it scans much better than, say, "Here's a Fantastic Writer Who's Much Better Than Most of the Crap on the Best Seller List." But say it any way you like, Michael Koryta is such an criminally underappreciated author.
He began his career while still in college with a superior private eye series set in Cleveland. The Lincoln Perry books started strong and only got stronger, ending not (as so many readers believe) at the artist's whim, but simply because for whatever reason they failed to sell enough copies. Fortunately, publishers can see beyond a track record to discern true quality, and Michael was "relaunched" with three novels that mixed suspense with the supernatural.
Although they worked for me in a way that most of the far too many books inspired by Stephen King do not, I was glad when Michael returned to pure crime with 2012's The Prophet, a masterful exploration of family, guilt, courage, football and small town Ohio, all propelled by a white knuckle plot.
His new book Those Who Wish Me Dead is another powerful stand-alone, a straightforward action thriller that hits the ground running and never lets up. Jace Wilson is a young man who has witnessed a killing by two very scary guys that is at the heart of a massive police cover-up, and when no official form of protection seems to be effective, he's placed incognito in a wilderness program for troubled teens run by Ethan Serbin, a survival expert. Of course, this stratagem fails to throw the creepy hell-hound killers off the scent, and the chase is on in the midst of the Montana mountains, replete with snakes, lightning strikes and forest fires.
Koryta has all the tools of an All-Star, and he displays them in this compelling book. The prose, the setting, the pace, the characters – particularly Hannah Faber, the fire lookout and former fire fighter with her own demons to contend with – are exemplary, and make Those Who Wish Me Dead virtually unputdownable. Robin wants the ten best list this year to be all women but I'm inviting Michael to crash the lady party – this book is that good. (Jamie)