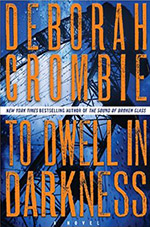 A new Crombie book is an event. Her Gemma James/Duncan Kincaid books have become instant classics, on a par with Peter Robinson's, and I used to say, with Elizabeth George's, but at this point I far prefer Crombie's books to George's. Her books are tighter and the character's lives aren't completely – or even at all – bleak and depressing. Gemma and Duncan have their problems, yes, but they are the problems of a normally lived life with a houseful of children ranging from teen to toddler.
That's the background, of course, to what is a fine police procedural series, with her two protagonists serving in different areas of London. In this one, the main case belongs to Duncan, who is called to St. Pancras Railway station when a bomb explodes there and someone is burned to death. Duncan is adjusting to life in a new "nick" away from New Scotland Yard, and uncomfortable with it. He's not sure of his new sergeant's feelings about him but is trying to minimize the animosity she seems to have for him. As the railway station is a public place of course the first thoughts are of a terrorist attack, and when an officer on the scene turns out to be Melody, from Gemma's team, the stakes are ramped up even higher.
Crombie presents the reader with a case that seems to have no cracks, no matter how much Duncan and his team interrogate the raggedy band of protesters who insist they were only out for publicity and thought they were setting off a smoke bomb, not a deadly grenade. As the case progresses small assumptions made by both the detectives and the actors in the story take on a darker meaning, making the reader more and more invested in the outcome. There's also a secondary plot line involving a case of Gemma's, the brutal rape and murder of a twelve year old girl.
If there's a more careful writer than Deborah Crombie, I'm not sure who it would be. Her stories are meticulously assembled and the rewards for the reader are many. The end of this novel is sensationally good, an unexpected yet well grounded twist that was both chilling and believable. She also leaves a bit of a hanging thread for her next novel, which really can't come soon enough. This book had one of the best endings of any book I've read this year – bravo.