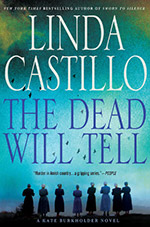 I am a sucker for this series. Castillo's premise is a brilliant one: police chief Kate Burkholter, who was raised Amish in tiny Painter's Mill, Ohio, left the Amish for the "English" world and returned home to join the police force. Her appointment as Chief is relatively new. Her status as an insider/outsider could not be more perfect as far as a mystery heroine is concerned, and her character's knowledge of Amish culture, Amish families and at times, the Pennsylvania Dutch language the Amish speak, are all helpful to her as she solves crimes.
That said, after six novels, I have to say Painter's Mill is a strangely violent place. Castillo is right up there with writers like Karin Slaughter and Val McDermid when it comes to horrible crimes. It's an interesting balancing act. In this novel, the book opens with the terrible and senseless murder of an entire Amish family back in 1979. Fast forward to the present, and it seems a vengeful ghost is at work, righting the wrongs of the past as a series of prominent Painter's Mill citizens begin to meet their own awful endings.
The first death could be taken as a suicide, but then the police discover an Amish peg doll lodged in the victim's throat. Kate is swept up in the case just as her lover, John Tomacetti, receives the news that the man who murdered his own family has been released from prison. Obviously Castillo's theme here is the need for revenge, and where that leaves the person exacting the revenge. While Tomacetti's hands are tied he figures out a way to avenge his family, just as the ghost of the 1979 crime seems to be doing.
These books are thrillers with an edge, as they are infused with the feel of bucolic central Ohio and the Amish culture that thrives there. Kate's sometime discomfort and longing for her past family life that provided her with such a buffer and protection against the outside world is balanced by her finding her place in the "English" world with her boyfriend and with her career. Her circle of devoted officers provides her with a new family structure and a kind of buffer as well, as does Tomacetti. She's one of the more interesting characters in mystery fiction, and I'm always more than willing to make another visit to Painter's Mill, Ohio.