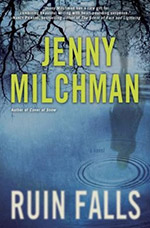 Jenny Milchman's new novel concentrates on a mother's primal fear: the vanishing of her children. Her main characters in this stand alone novel are the Daniels family, Paul, Liz, Ally and Reid, on their way to visit Paul's parents. Rarely do the Daniels leave their homestead and their contact with Paul's family has been minimal.
Milchman begins to skillfully sketch in the family details: the processed snacks snuck by Liz to her children when they are on the road, despite Paul's objections; the clever and disturbing ability of Reid to pick pockets; the sweetness of Ally; and the apparent controlling nature of Paul. We're seeing it all through Liz's lens. When Paul decides they can spend the night in a hotel before reaching his parents' house, Liz is delighted by the rare treat and chance to get cleaned up and prepared to face her in-laws. Wakening from a deep, comfortable sleep the next morning, she quickly discovers the children are missing, and she and Paul go into full panic mode.
Milchman expertly captures the despair, fear and primal anxiety of Liz the mother as she begins to crumble in the realization that her children are gone. The twist in the scenario comes when Paul vanishes as well and the cops are certain it's Paul who has taken the children, despite a morning spent being questioned by them. At that point the disappearance is classified as a "domestic" and the cops step away. There's nothing they can do, and Liz is left literally on her own as she quite naturally sets off on a quest to find her missing babies.
Academically, Milchman has taken Liz, stripped away everything, and then forced her to find her way back both to her children and to her own sense of herself. That's academically, and it's a terrific premise. What makes this book a stand out is Milchman's expert ability to portray Liz's pain, the way she fights through it, and the ways she uses her own resources and intelligence to find her children.
Milchman's almost delicate explication of Liz's family life it really well done. Liz isn't just an "every woman," she's very specific: she raises her own flowers and vegetables that she sells; she and her family try and have a small carbon footprint; they don't eat processed foods, watch TV, etc. Milchman thus anchors her character in a specific reality. Even her son Reid's ability to pick pockets and his sister's worrying about it is specific, as well as realistically portrayed.
All of this makes the thriller story that Milchman is telling more relatable, more suspenseful, and more memorable. A good thriller is always grounded in both reality and in specific detail; the slam bang read on top of that underlying structure make this book one of the best reads of 2014.