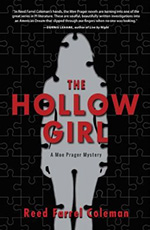 When Reed Farrel Coleman decided to wrap up his now classic Moe Prager Private Eye series, he didn't mess around.  This moving novel ties up many threads in beleaguered P.I. Prager's life and sets him on his retirement path.  The story that goes along with this last entry is a show stopper, hard to put down and a joy to read.
For those readers unfamiliar with Coleman, he's been a small press sensation, beloved in the mystery universe for his straight up, old school private eye novels featuring Moe Prager, set in Brooklyn.  Fittingly, Coleman has just been tapped to write Robert B. Parker's Jesse Stone series, and his writing owes a huge debt to Parker's ground breaking, wisecracking story telling style.
This book has the bittersweet acknowledgement of the benefits of age and life experience, while lamenting the physical slowdown that accompanies that state of being ("I headed for Giorgio at full speed, which, at my age, was only slightly faster than standing still.")  And more appropriately, Moe's last case comes from his past.
At the request of an old acquaintance, Nancy Lustig, Moe is asked to consult on the case of Nancy's missing daughter, a woman more infamous than famous as "The Hollow Girl", a 90's internet sensation who faked her suicide online and had a huge following of the lost and lonely who turned to her blog posts to see what was happening in the Hollow Girl's life.  While Moe has never heard of the Hollow Girl, in a typical generational divide, his daughter has.  However, Moe is more than willing to hunt for someone's missing daughter.
As the details of Moe's life form a picture of the man – he's recently widowed, recently recovered from cancer, been drinking too much, is estranged from his daughter and missing his only grandson – that is really only the background to what is really a kick ass story of Moe's hunt for the Hollow Girl.
Like any P.I. worth his salt Moe's gut tells him a different story from the sometimes accepted party line, and when the Hollow Girl starts re-broadcasting while including a disclaimer that everything on screen is performance art, Moe has a different feeling.  There are some red herrings but this well-constructed story ends in a well laid out and thought out conclusion.
While it's absolutely unnecessary to have read all the other novels in this series to enjoy this one, you may want to head to the shelf and make a more detailed acquaintance with Moe Prager.  He's well worth it.