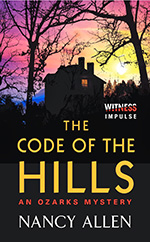 Nancy Allen refers to her first novel as "hillbilly noir" but I'd call it "legal noir," as it's a harrowing, inside look at the legal system and its many faults. It's also a harrowing look at life in a small town in the Ozarks: Barton, Missouri. Allen's main character is a prosecutor named Elsie who apparently has the world's most horrible boss and she's working on the world's most horrible case.
I think folks who work sex crimes are probably vastly underpaid for the heartbreaking and soul-sucking work they do – unless they are each paid a million bucks a year, they're working for us for free. Despite Elsie's flaws and blind spots she's still fighting to do what's right because that's the way she works. Elsie has a special soft spot for child victims, and the case she's assigned in this novel is a doozy.
Charlene, Kristy and Tiffany Taney live with their brute of a father and their wreck of a mother, only now the dad is in jail and charged with rape. The mother had been abused herself as a child and takes it almost as a given. As Elsie points out to her boss the holes in their case preparation and goes to interview the girls, she's horrified by the details.
While Elsie's boss is a stumbling block she's given able assistance by the sympathetic and practical Detective Ashlock. She's also juggling a new romance with a hunky cop, Noah, though their schedules make it hard for them to get together. Elsie's boss is politically motivated and unavailable whenever Elsie needs her, so the details and work of the case fall to her, and Allen gives the reader an excellent look at the ways a legal case is meticulously assembled.
After the father is charged Elsie is targeted by a "men's rights" group who think no one should interfere with the head of the household. She's also subjected to a series of humiliating pranks which leave her nervous and unsettled.
Her witnesses, who are, after all, children, need a lot of hand holding and preparation, and the opposing lawyer is eager to discredit them even though they are children. Allen throws plenty of road blocks in Elsie's path as she steers her way through what is in every way a difficult case. As a reader you want the father in prison as much as she does – the idea of him getting to tiny six year old Tiffany at some point is completely chilling.
Whether Allen meant to or not – and she's not writing a polemic – this is a truly feminist novel in the way it looks at the different ways women are powerless or made to feel that way in our society, starting, as she illustrates graphically, sometimes when they are children. Early on Elsie thinks to herself, "As women practicing law in the Ozarks, both Elsie and Bree had to battle for respect…" Neither woman plans to go down without a fight – or at all – but they are at times fighting a very uphill battle.
Allen also makes some strong points about battered women throughout the novel, something she really reinforces through her storytelling toward the end of the book. If this book doesn't make you fighting mad, Allen probably hasn't done her job. While I never doubted the final outcome, the plot twists were enough to keep me turning pages non-stop as I got to the end, and I didn't quickly stop thinking about Allen's story.