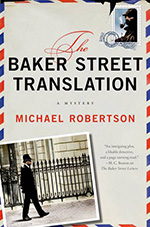 This charming book is one of those told by a natural storyteller. Someone who just plain wants to tell you a story – other examples of this art form would be Donald E. Westlake, Lawrence Block, Michael Bond, and Elizabeth Peters. Robertson has no agenda other than giving your brain a nice workout as you figure out the puzzle along with his characters and relating a good yarn. Success on all fronts, as far as I'm concerned.
This is the third in Robertson's series of Holmes embroideries set in the late 90's. I can't call this a pastiche, really, as only Sherlock's address and letters to him are part of the equation, though the cases are solved by good old deductive reasoning. The central characters are Nigel and Reggie Heath, whose law firm happens to occupy 221B Baker Street. Letters addressed to Sherlock Holmes are delivered there, and a condition of Reggie's lease is that he answer them.
In this installment, Nigel is in America trying to pass the U.S. Bar exam, and Reggie is home in London. Sherlock's letters are forwarded to Nigel to be answered. While Robertson introduces all the threads of his story in the first few chapters, the one that seems to be the central thread concerns a Mr. Liu who shows up at Reggie's office to consult him about a non-payment of a debt.
Mr. Liu, it turns out, has come all the way from China in search of Sherlock Holmes. He is sure Reggie is the actual great detective and is surprised by how well he's preserved. Reggie has a hard time convincing him he's not Sherlock but Mr. Liu presses ahead and tells him he must be as he received an answer to a letter he'd written.
He also reveals that he'd been contracted as a translator for some nursery rhymes that accompany a toy duck whose beak, when pressed, recites the nursery rhyme that begins "One, Two, Buckle my shoe." His translation had been rejected as incorrect and he has not been paid; he knows he's done a good job. It doesn't seem right to him.
After it evolves that Reggie is unable to help him he sends Mr. Liu on his way with a recommendation that he see "The Mousetrap" on his one London evening. Of course Mr. Liu is later found dead in an alley. Meanwhile we're also there when the ultra wealthy Robert Buxton is kidnapped, and present when someone tries to return one of the ducks because the instructions are wrong.
Reggie and his team – who turn out to be his perhaps girlfriend, Laura (he's planning to propose) and his brother, Nigel – pull together when a ransom demand for Lord Buxton is delivered to Laura, and Reggie is disturbed enough about Mr. Liu's death to try and figure it out.
Robertson seemingly effortlessly juggles the different parts of his story in a way that the further on you read, the more they make sense and fit together. The fun is in the fizzy, frothy, delightful journey. I knew everything would turn out OK; I turned the pages to find out how and because I liked every single character, good guy or bad guy. This book is a pure joy.