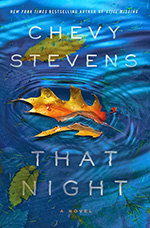 We get a lot of uncorrected proofs and advanced reader copies – those large format paperbacks that are sent to bookstores in order to drum up interest in a forthcoming hardback.  Much of the accompanying promotional literature is guilty of hyperbole to say the least, but in rare cases it's spot on. As printed on the cover, with any justice the summer of 2014 will belong to Chevy Stevens's fantastic, suspenseful novel That Night.
Earlier this year I lined up four or five proofs and read the first pages of all of them and That Night was the only one that grabbed me from the get go. After I quickly finished it, I gave it to Robin who also tore through it and then we subjected it to the most rigorous test of all, our son, who demands Harlan Coben quality readability and suspense in any book he picks up. When he loved it as well, I knew we were on to something.
Part of it is that intriguing opening, a first person, richly detailed and believable account of a woman, Toni Murphy, being released from prison, having spent half her life for a crime she claims she didn't commit. Immediately the reader is drawn in, and the narrative flows to both the scandalous past – what was the sensational crime? – and to the fraught present, where she must survive the predictably rocky post prison world, which sanctimoniously savors inflicting every possible indignity on a convicted murderer, while she also, this being a mystery, attempts to clear her name and find the real killer.
It's soon revealed that the victim was her sister which, as you can imagine, complicates things with her family and her return to society. Stevens nimbly cuts between the High School acting out that ends in tragedy, Toni's painful descent into prison routine and a "freedom" that is almost as perilous and constricting, especially when her alleged co-conspirator, high school boyfriend Ryan, reestablishes contact against court orders, urging her to help him find justice and rekindling their old attraction.
The suspense increases with every sentence, the reader furiously wondering what really happened that night – everyone seems like a suspect, including Toni, who may just be an extremely unreliable narrator. I highly recommend picking That Night up, but I also recommend clearing some time before doing so, because you're not going to want to put it down. (Jamie)