I had a bad reaction to the first Jo Nesbo title I tried, The Redbreast, and set him aside as unreadable, despite many enthusiastic customers' responses to the contrary.  Finally a few women in my book club recommended that I give The Snowman a try.  I'm glad I did.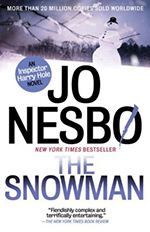 It's hard to mess up a serial killer book, which this one is, but there are so many variations, that it's also hard to be original in the particular sub-genre.  Nesbo more than pulls it off, writing a complex, intelligent, twisty and emotionally penetrating thriller that's very difficult to put down.  This is the seventh book in Nesbo's Harry Hole series.  Harry is a Swedish police detective whose spiritual twins might be Ian Rankin's John Rebus and Henning Mankell's Kurt Wallander.  He's a tad cranky, he used to drink, his relationships are problematic, and he's obsessed with the job, as well as being a very good detective.  He needs all his smarts to catch the serial killer dubbed "The Snowman."
Even though as a reader you know this is a serial killer novel, Nesbo has many threads and cases and moreover jumps about in time a bit, so that while you know intellectually that all the deaths are connected, it's a puzzle trying to figure out exactly how they might be.  Starting as a straightforward investigation of the disappearance of an apparently responsible wife and mother – who has left her 10-year-old son home alone – the only tangible clue is a snowman built mysteriously in the woman's front yard.  For some reason, it's facing the house.
Hole has been assigned a new recruit, an eager and intense young woman named Katrina Bratt, and the two of them are soon hot on the trail of a number of mysterious disappearances of young mothers.  The serial killer idea is scoffed at by Harry's superior officers, who think that he got ideas over in the USA when he was taking a criminology class at Quantico.  Bratt believes in him totally though he has some slight doubts about her, but she's a good officer who is with him as they make some chilling and disturbing finds.
What makes this novel especially original apart from its structure is the really ominous sense of doom that Nesbo manages to inject into an innocent snowman.  I was reminded of the sequence in "Ghostbusters" when Dan Aykroyd imagines the least threatening thing possible, the Stay Puft Marshmallow Man.  And, like the Marshmallow man, who could be afraid of a snowman?  Nesbo pulls it off, as he does this complex, dark take on the serial killer trope.  I am now more than willing to revisit Harry Hole.